Discussion Starter
•
#1
•
or a duck hunter to truly appreciate this bronze ...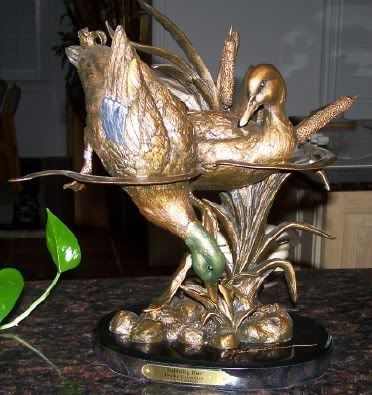 We picked it up at an annual Ducks Unlimited banquet here in N TX last night. It perfectly depicts a drake Mallard "dabbling" for dinner under water. Whenever you see them "butts up" in the water, this is what they are doing ... feeding in the shallows.
Mallards are among the species of North American ducks that feed in that manner and are called dabblers. The ducks that feed completely submerged are called "divers" and include such species as Canvasbacks and Bluebills.
Then there are those strange ducks that feed almost exclusively in cattle feedlots. They are completely full of you-know-what. Those ducks are called Democrats.
:laugh: