Send a PM to Dexter Dogg to participate in Woofus's travels!
Woofus III started his travels Jan 2010. As long as there are people on the list, we'll keep Woofus travelling!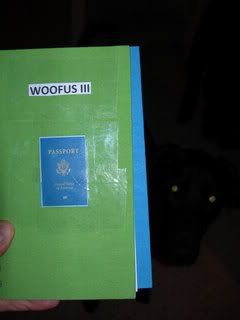 Note: The most recent photos from Woofus's travels are towards the end of this thread!
We'll send Woofus in order of the sign up.
1. Sharon (BigBrownDog) - North Jersey
2. Dan (Dweck) - Pennsylvania
3. Brenda (Jefferson N Ted) - Louisville, Kentucky
4. Ursula (TobysTrix) - Houston, Texas
5. Debi (BauersMom) - Michigan
6. Kim (Thunders Mom) - Eagan, Minnesota
7. Laura (Labby) - Michigan
8. Jodie (Joflake) - Pennsylvania
9. Laura (CJs Mom) - New Hampshire
10. Brenda (Clancey Canuck) - Ontario, Canada
11. Linda (Linda1) - Pennsylvania
12. Karen (Belles Mom) - Michigan
13. Terri (Allthatjazz) - North Carolina
14. Andy (Lab Dad) - Hampton, Virginia
15. Melissa (Luvmydog2much) - Windsor, Ontario, Canada
hoto: (Woofus III is currently with Melissa).
16. Melissa (Retriever Mama) - Connecticut
17. Suzan (Kaylasmom) - Eastern Shore Of Mobile Bay, Alabama
18. Sharon (Finnigan) - Thunder Bay, Ontario, Canada
19. Kassabella - New Zealand
20. Sarah - Sydney, Australia
21. Garth - Australia
22. Pottsie - Victoria, Australia
23. Justine - Michigan
24. Sara
25. Bernie (HarveysMum) - Kent, UK
26. Colin (Samson) - Kent, UK
27. Montoya's - Ft. Collins, Colorado
28. Tracey (Pipermom) - Florida
29. Roxy (Diesel_Dawg) - Toronto
30. Laurel (ThreeTs) - Idaho, USA
31. Terri (Mama3tikes) - New Jersey
32. MidwestGirl
33. Ed (HersheyK's Dad) - Minnetonka, Minnesota
34. Marie (Striing)
35. Robin and Joe (JandRBurns) - Massachusetts
36. Kate (Mazie's Mom) - Oregon
37. Jessica (Jes) - Minnesota
38. Karon (Azlab) - Phoenix, Arizona
39. Justine (Bucksmom) - Ontario Canada
Please note
- Woofus is quite small so he'll easily fit into a size 4 scotch bubble mailer and the passport book is small and light as well. I want this to be fun for everyone and not cost the earth to mail.
I would imagine it is probably best not to let your dog play with Woofus otherwise he may get slobbery!! Of course, if your dog is ill, it may be best to wait until he/she is better before having Woofus.
These are the instructions that will accompany Woofus III (Inside of the passport)...
UPON RECEIPT OF WOOFUS - When you receive Woofus, please send me a pm so that I can keep track of his progress.

PASSPORT - Woofus's passport will be enclosed. Please stamp or write in the date you received Woofus, and destination. When you mail him to the next recipient, please also stamp or write in the date he left. Feel free to leave messages in the book too!!

NEXT RECIPIENT - Once you have pm'd me, I will e-mail/PM the next person on the list and they will have 3 business days to reply as to whether or not they are still in the tour. If no reply is received, that person will be on "hold" status. When we have established the next person, I will ask them to pm there address to the current person who has Woofus.

TAKE LOTS OF PHOTOS - The idea is to get something with local flavor in the background. If you don't have a local landmark that you think would be interesting, just take a picture somewhere where we can get an idea of what it looks like in your part of the world. Photos around your home are great too!

REPAIRING AND WASHING - In some instances, Woofus may be injured. Please try to repair him. If you are unable to, please send washed and dried body parts in a "ziplock" bag to the next recipient. He/she may be able to repair. Feel free to wash Woofus if he gets dirty!

MAILING WOOFUS TO HIS NEXT TOUR STOP - Please enclose these instructions to the next address. Please use a large tear/weather proof envelope (maybe a scotch mailer) or small box. Put a transparent tape on the address of the recipient just in case of rain or water damage. Use proper postage and don't add anything perishable or alcohol to the package, these things get sniffed out and the package will not be delivered. When addressing the package during mailing, make sure to include the entire address:

Recipient
House Number, Street, apt#
City, Province/State
Zip/Postal Code
COUNTRY (If applicable)

Have a return address on the package too.

Note - When sending to Canada, you cannot address it to a non-human. It must have a human's name OR put C/O....last name.

SOUVENIRS - In the past, people have added souvenirs from their area. If you receive something in your package from the last person who had Woofus, it is yours to keep as a souvenir. Please do not forward the souvenir to the next person, as that would make the package very heavy towards the end of the tour.

HAVE FUN WITH WOOFUS!!