Over the past few years Cappy has developed an increasing number of Lipomas (benign fatty tumors). They've varied in size, shape, feel and "mobility". Two years ago was the last time he had surgery to have a couple removed. They were benign but in the front upper chest near where it meets the lower neck. I had a Setter that had mast cell cancer in that spot that the bulk of which had attached to the base of his windpipe, so I'm especially nervous about any tumors.
We've had each of Cappy's newer or larger ones aspirated at least semi-annually as he goes in for his shots, a dental cleaning or other checkup. They have always been benign fatty tumors.
He has one on his left side that is the size of a large orange, cut in half. It hasn't changed in shape or size for the past 18 months. It's been aspirated as recently as last May and declared benign. It does not impede his movement or cause him any pain when it's handled or if he lays on that side.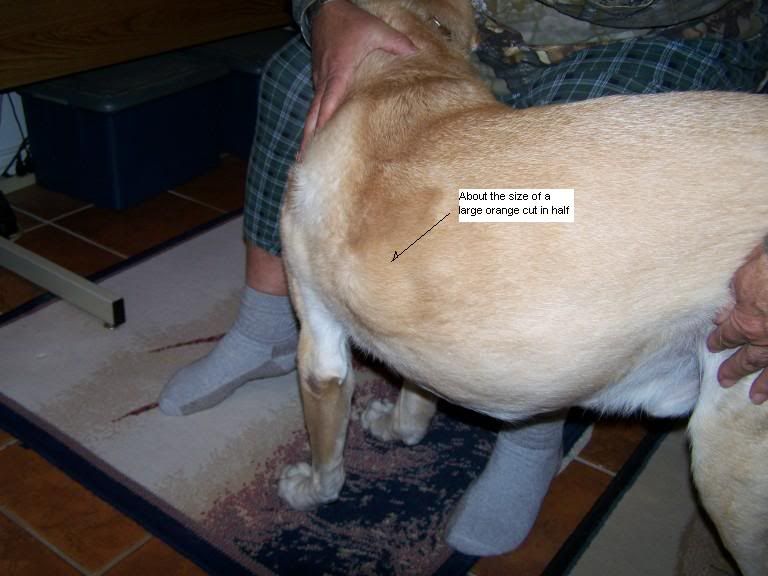 He's scheduled for a dental cleaning on Feb 8th. The Vet has now decided that "as long as he'll be under", we should remove it. When I asked why not the other half dozen or so smaller ones ... he seemed a little taken back by my question but replied ... "because they aren't this large". Frankly, I don't think size should be a primary factor ... and I certainly don't want the vet's financial motives to be one either.
I wouldn't do anything to endanger Cappy's health or well being. I check him thoroughly several times each week. Keep in mind that my dawgs are hand washed and dried after every training session or hunt so I examine them for cuts, nicks, or other injuries thoroughly. I guess I just don't want him to have to go through and "unnecessary" surgery, recovery period and return for suture removal later.
Cappy will be Eleven on Friday. If he was your's, would you subject him to the surgery or continue to monitor it as I've been doing?