Discussion Starter
·
#1
·
Short version - wind knocked tree on to our house- we're fine.
Long version.
I went to bed about 10 and it was pouring rain and the wind was whipping pretty hard. Lost power shortly thereafter so CJ came up with me. He hates when the power goes out.
So I'm lying there listening to twigs and branches hit the roof and just as I'm thinking how happy I am that last summer SU trimmed the big branch that used to hang over our bedroom, it happened. That tree split in two and fell on the house. Right above me. In the pitch black night. I thought for sure a branch would fly through the window and skewer me any second, but obviously, and luckily, that did not happen.
From the outside you see the ridge is dented and there's a chunk taken out of part of the roof in the back of the house, but it doesn't look all that bad. But I liken it to a concussion, it doesn't look so bad on the surface, but there's something wrong inside. The adjuster has been swamped with claims so didn't make it out today, but SU poked his head up into the crawl space and it looks like there is some damage to the beams. I figured there must be since the ceiling upstairs has some chunks of plaster missing and some fresh new cracks.
The tree removal guys have been here for 3.5 hours now. It's dark and cold, but they're getting 'emergency' rates to finish up tonight.
Poor CJ was so freaked out last night. First from the crash and my scream. As soon as we lost power, SU went out to set up the generator and the tree fell while he was outside. The top of the tree broke off when it hit the ridge and fell over the roof to the front of the house and smashed the doorbell button. When SU got the gen hooked up, the doorbell was ringing every 5 minutes or so and wouldn't stop so that freaked CJ out more. He is a doorbell barker.
I had no idea how to make it stop and SU had gone out in search of fuel for the gen. With roads impassable and power outages, that took a while. I could not calm him down and felt so bad for him. I tried acting normal, but he knew things were not normal and kept whining and running around looking for a place to hide.
He's freaking out as I type because they are nailing tarp to the roof and making strange loud noises. Poor guy.
So that's it for now. Here are some pics from last night. They aren't great since it was dark and pouring.
This part hit the house then fell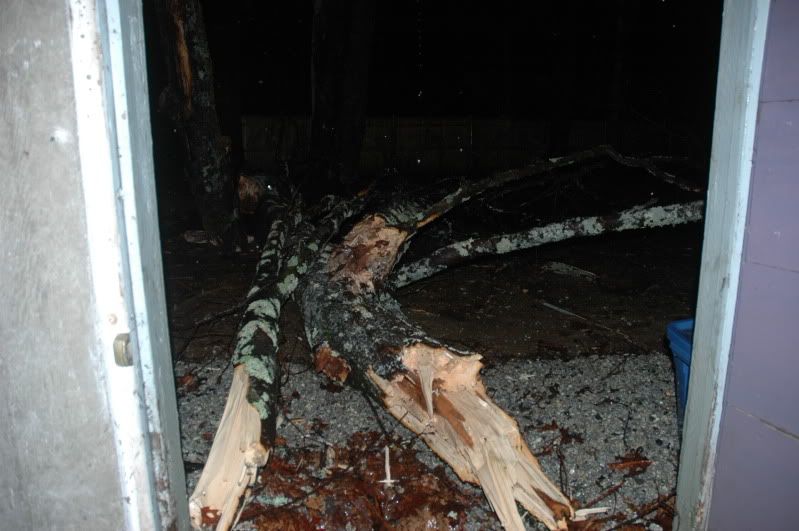 This hit the house and didn't fall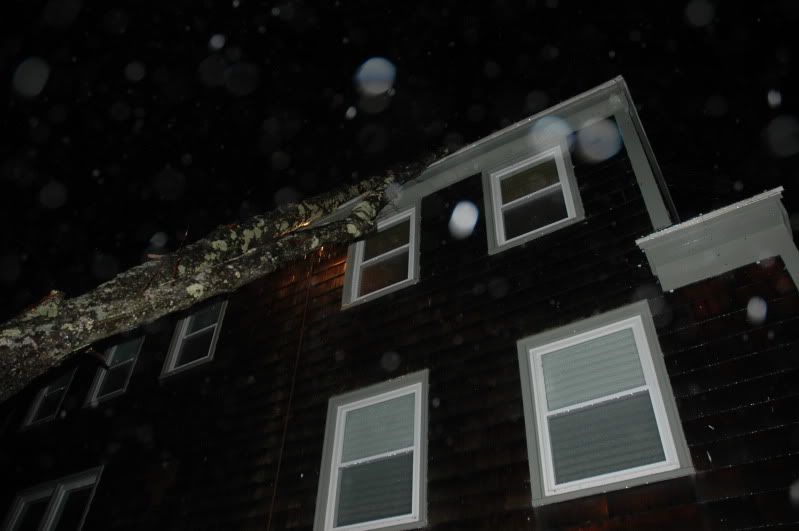 This top part is what snapped and fell to the front