Discussion Starter
·
#1
·
So today Sam and I took Apollo to the Thorpe Bark Park. It was his first time at a dog park AND my first time at one. He had a BLAST. He made lots of friends and I took a bunch of pics. the first dog he befriended was a lab mix named, molly. He had a great time playing with her. He also befriended two basingeis, a german shepard mix, a dalmation, and a mutt named delilah. Oh and a very sweet rottie.
Here are some pics (warning, there are a TON). ;D
Checking out one of the "barkers"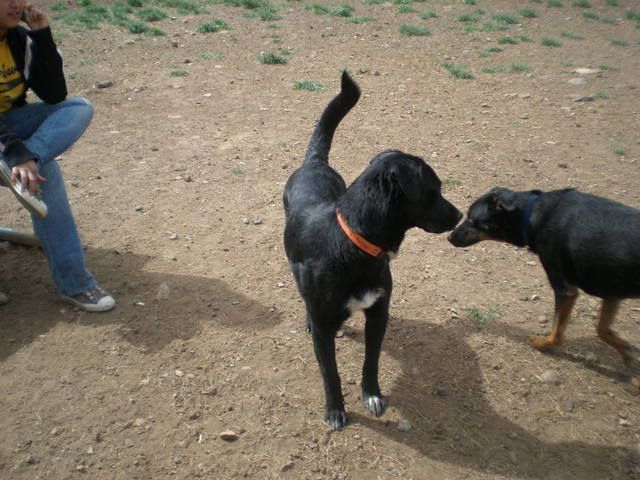 This little Pit was SO sweet. He was EXCELLENT with all the other dogs and Apollo just loved him. His name is Tyson: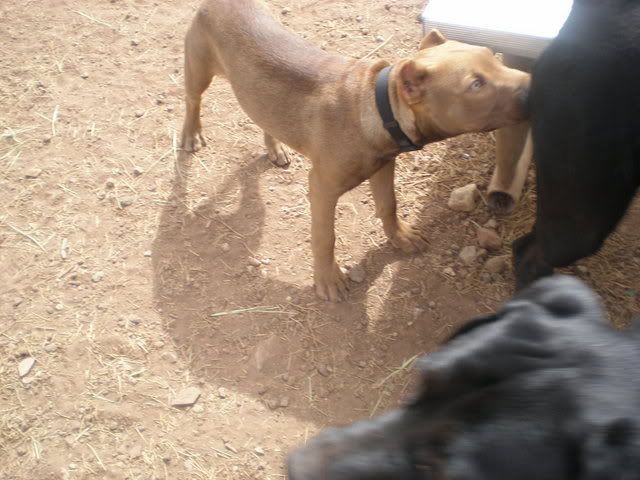 Hey little Basingei!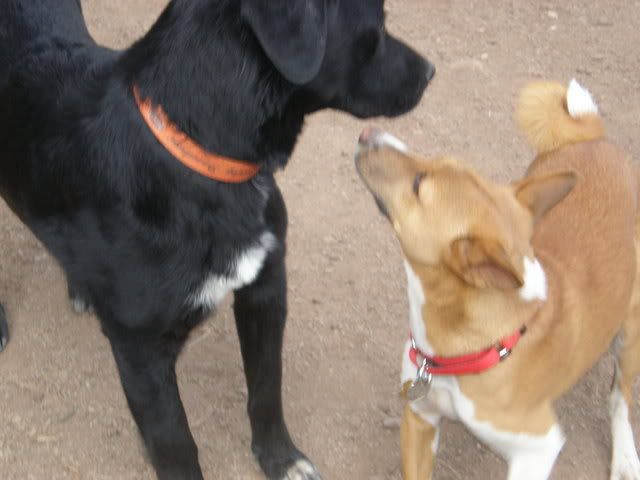 Soooo happy!
Lab ears in "flight" mode lol
Lab mix "conference" lol Left to right: Apollo, Molly, George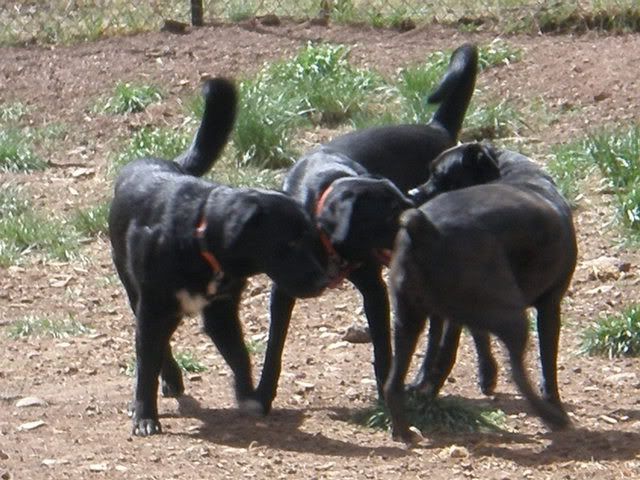 Playin with the little dogs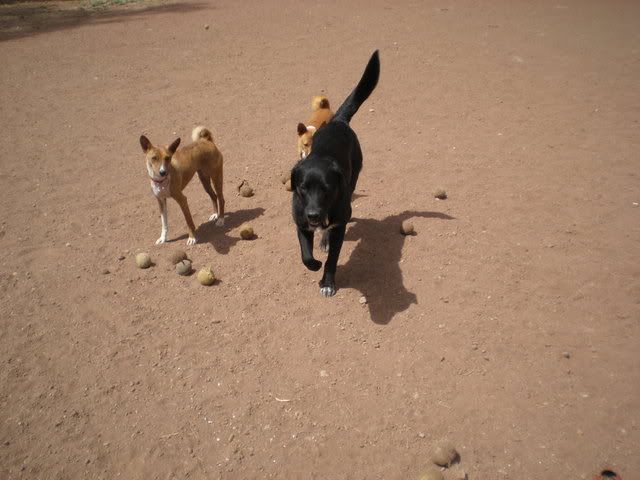 Apollo and Molly. Me and Molly's owner couldn't tell the two apart. LOL they are both black with orange collars.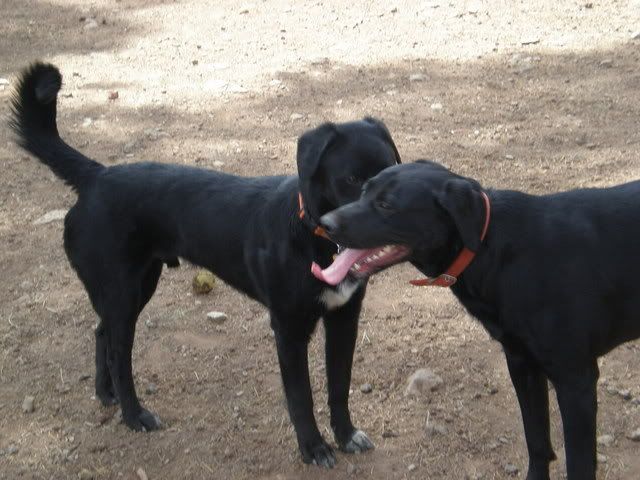 Exploring.
Chasing another dog (look at silly Delilah up on the picnic table lol!)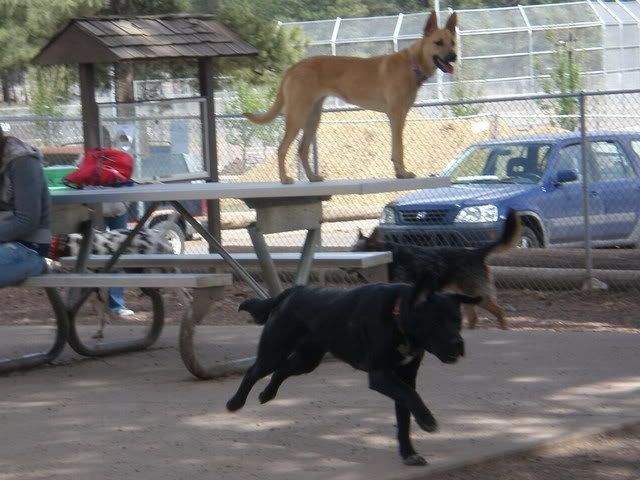 Soooo happy!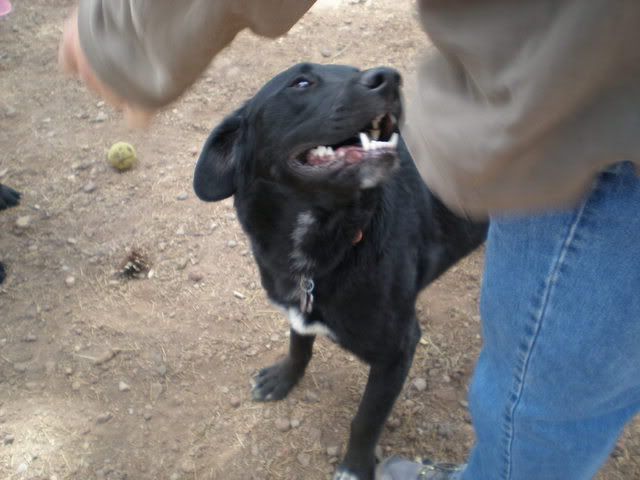 I shall "kees" you!
I shall "kees" you too!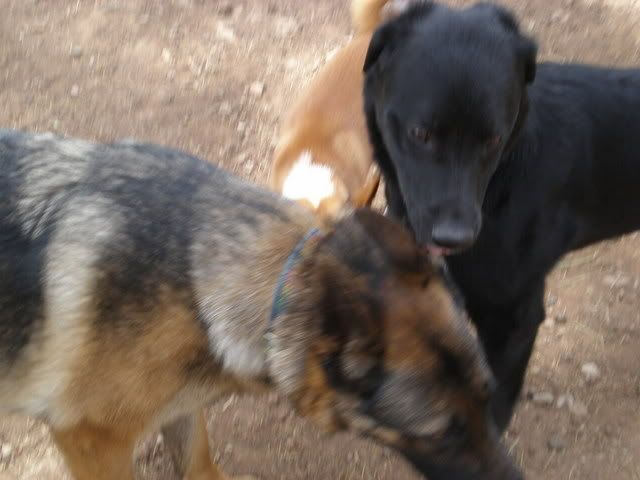 This Rottie wanted to play with Apollo soooo badly. Apollo wouldn't play, it took forever to get him too. This was the sweetest rottie ever lol
Play with me play with me!
Play play play! Pleeeassseee!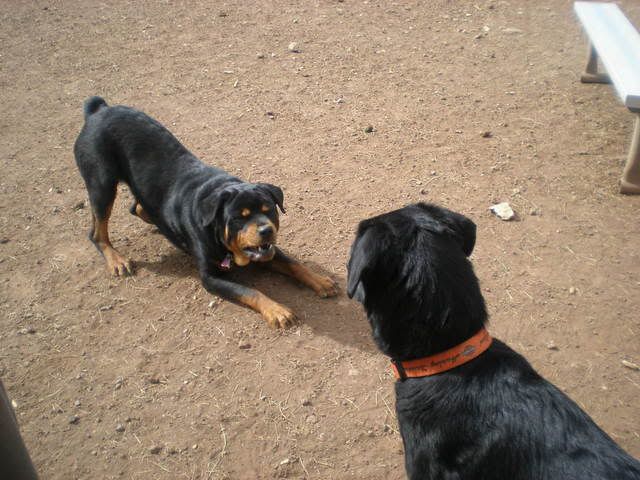 http://apollopuppy.myphotoalbum.com/view_photo.php?set_albumName=album01&id=P1010183
and my favorite pic of all: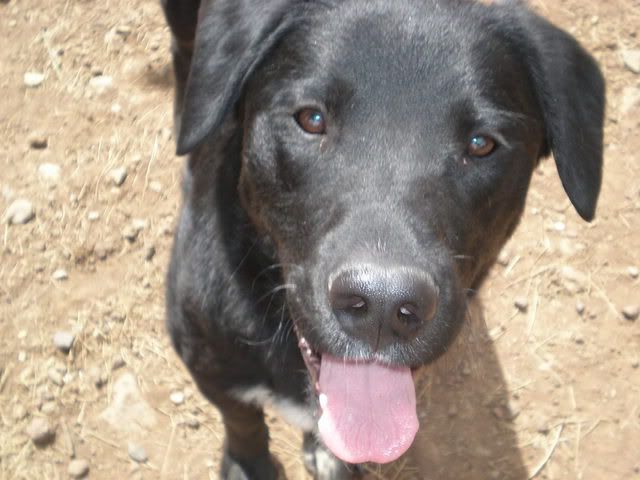 Now for the negative stuff (warning, I whine alot below)
One thing I was really bothered by was while we were at the park, a man came in with two VERY agressive Great Pyranese mixes. These dogs were HUGE and the first thing they did when they walked into the park was attack a very sweet rotweiler. The poor rottie was terrified. The rules at our park EXPRESSLY state that all dogs must leave at the first sign of agression. Even though this dog attacked the rottie right away, the owner didn't leave. I put Apollo back on his leash and stayed away from the two dogs. The owner had NO control over them. some people left when this man came in, apparently he's been to the park before and his dogs have hurt other people's dogs. :
Well all was fine and dandy until this **** dog decided he wanted to start circling me. He started to circle me and stare me down. He kept barking and growling at me, I was very afraid but made sure to not let the dog know that. I was holding apollo by the collar and Sam was standing in front of me incase the dog attacked. The **** owner couldn't get ahold of the dog. Sam got very angry and told the man he should have left when his dog attacked the Rottie. The man had NO control over this huge dog, apollo was very scared. The man FINALLY got ahold of the dog then he tells me "take off your glasses, i don't understand why he is scared of you." I get what he was saying but he was completely in the wrong to ask me to take off my glasses when he doesn't have control over his agressive dog. Once he got ahold of the dog he STILL didn't leave!
Another woman had to say "hey, doesn't the sign say NO agressive dogs in here" you know what this guy says? "oh he's not agressive". Not agressive! HE attacked a rottie as soon as he got into the park AND he threated me, I think thats agressive! The man STILL didn't want to leave. I had to say "Looks like an agressive dog to me! Seemed pretty agressive when he attacked that rottie over there. Seemed pretty agressive when he was staring me down. I think you need to leave, read the rules, your dog is dangerous and you have no control over him." He finally went into the gated area inbetween the fenced dog park and the outside parking lot. He stayed in there for like 10 minutes and then finally left. I was so upset. The rottie AND apollo were both terrified after the dog left. The other dog owners were appauled. So was I. What should I do if this happens again? I really was scared that dog was gunna rip me apart.
So that was our day. There were fun parts, there were not fun parts, but either way apollo and I both had fun. Can't wait to go back next Sunday! ;D