Discussion Starter
•
#1
•
Thursday morning update.
Well, I still have the kitties. No one has called to offer to take them. They are eating well, at least 1 teaspoon per feeding. I've been able to arrange feedings anywhere from 2-4 hours apart.
This morning we got our first poop, I was so happy!!! ;D
Only one of them has pooped so far.
Wednesday morning update. I still have not found anyone to take them. I fed them kitten formula through a syringe at 6pm, 8pm, 10pm, 2am and 7am this morning. They will only eat about 1/2-1 teaspoon at a time, according to something I found online that is about right for 1 week old kittens. Elias is OBSESSED with them. Always sitting by the door of the room where they are, sitting right with me when I am with them.
I am concerned that the "stimulation" is not working. I can get them to pee but no poop yet. Anyone know if this is normal? I really am hoping to get a call from someone saying they will take them. I work full time and can really only get home at lunch. Here are some pictures I took last night.
me with kitty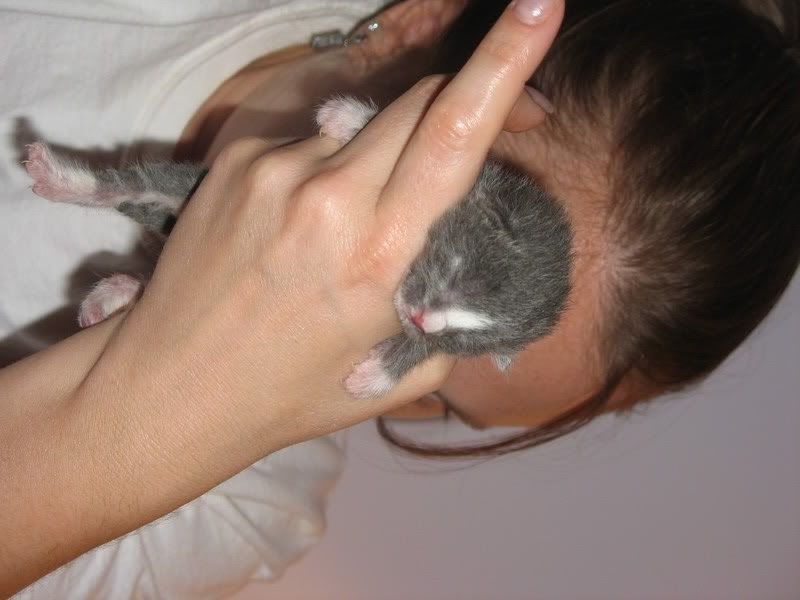 me holding another kitty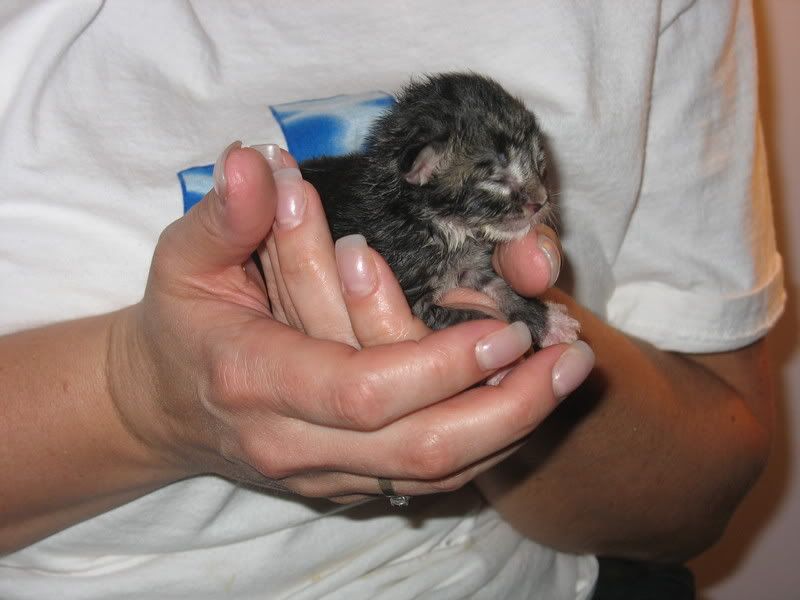 my husband holding one
Elias being obsessed
Oh my luck
I work for a moving company. We use one trailer for trash. Today the guys were taking the trailer to the dump. They opened the door and out ran a momma cat, left behind 4 tiny kittens.
Of course being the animal lover here they brought them to me. My guess is that they are 1-2 weeks old. At first I thought they were moles because 3 of them are grey.
I ran to petsmart and got formula and bottles and I am going to leave work soon to take them home to feed them.
I called a few vets in the area and they can't help. I called the ASPCA and they told me that most likely they would be euthanized there. I am waiting for a rescue organization to call me back, they are looking for someone to take them.
Any advice?