Discussion Starter
•
#1
•
My baby girl is 4 months old and got her big girl shots today. She weighed in at 30.9lbs along way from the 8lb pup I started with. She did really well with everything. They are treating her for gardia(sp?) because she has been having loose smelling stools on and off for awhile and she doesn't have worms. Her stool test for this was negative but they said 50% of the time they are negative and they still have it so we are trying to antibiotic for a week and if that doesn't work they want a food change. She is on Chicken Soup Large Breed Puppy so I am not sure the food is a problem because she has been on this since we got her. So all in all not a bad appointment for her.
On a side note while we were in the exam room with the vet and tech we heard this awful wimpering/crying that sounded like a hurt dog but none of us could figure out where it was coming from. I looked out the window and there was a lady(late teens/early 20's) running up the drive with a dog in her hands. They asked me if I minded if they used my room since we were by the door and of course I took Sydney back to the waiting room. Well I guess this lady and the guy with her were bringing their dogs to the vet(a german shepard mix and a pomeranian(sp?)) in a top off Jeep Wrangler and the pomeranian jumped our while they were driving up the driveway and got hurt. I feel so bad for this dog. They were still waiting to hear when we left after we got to meet with the vet again about the course of action we wanted to do with Sydney. I sure hope the dog is ok.
Here are some pictures from Sydney looking over the gate in our livingroom debating on if she wants to jump the gate or not.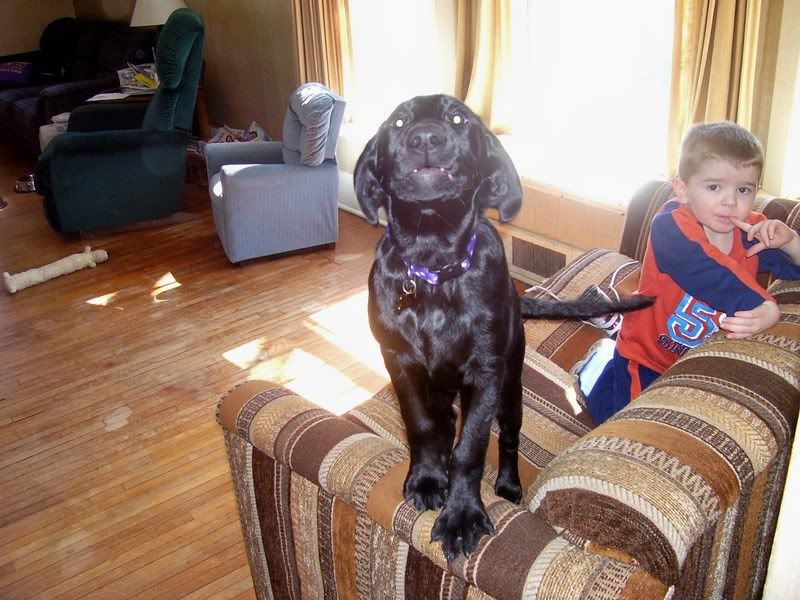 Jenny