Discussion Starter
·
#1
·
Well, Star has come home. Poor baby, she was so confused. I picked her up from the vet's office and she was still real groggy from her surgery. I sort of wish that they wouldn't send the dogs home the same day as their spay, because she was so disoriented and sick from the anesthsia and to top it off she was in a strange place where she knew no one. She was such a good girl, she threw up a couple of times and was so good she would go to the door sho I could let her outside, she didn't want to be sick in the house. But she finally settled down and went to sleep at about ten and she slept through the night. She was rather anxious about the crate, but we will work on that. She was my little shadow this morning, except when I went to the bathroom, she had no interest in following me down the hall in the house for some reason. She will probably get over that as she adjusts to the new surroundings. She seemed to much more comfortable outside while I was walking her, she even was bouncing around chasing moths that flew up out of the grass as we walked. She really enjoyed walking. She didn't seem to have any interest in eating this morning. They gave me a bag of Science Diet and told me that is what she had been eating at the shelter but she was sniffing it and then looking at me like "What the heck is this?" Which is of course just my human interpretation of her look, but....
Here are some pics, She looks so skinny to me, can anyone tell if she looks like she needs to gain weight? To me she does look too skinny. Also, the vet says she is 6 months old and weighs 29 lbs, will she get much bigger than she is now, or is she close to her full size? I wouldn't mind if she got bigger, but I am not sure how much taller she will get at this age. The pictures aren't that great, she wasn't feeling good and it shows. Here is my baby:
Chillin' by the front door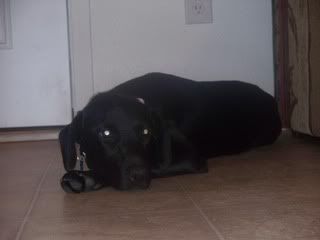 more chillin'
Checking out the new crib...
"Are you done yet? I am not in the mood for a photo shoot"