Discussion Starter
•
#1
•
So I havent been on in like a week. Took some pics and a video last night. Want to share with you guys. Tater is doin great. I added another long walk to our nights. So there for he has gotten really good at walking on leash. He perfers to be walked by Cody, but Cody is out of town a lot so he doesnt have much of a choice. I tried letting him sleep in the bedroom last week, he ate the leg to my bed. So back to the crate. I ordered a plastic crate for him to sleep in, in our bedroom. That way when he moves around you dont hear the metal on metal moving around.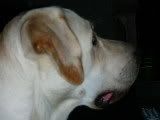 Chilling out with mom on the chair and giving her kisses
I look so cute in this pic, I am all smiling and mom looks like crap, wow she should really do something with here hair. ;D
These are some pics of me at my grandmas house. Mom has been taking me over to run and play with Bama. They have a pool and lake. Mom hasnt let me go swimming yet this summer. Water is cold and she doesnt want to get in with me. But I still manage to make my way in.
I will post the video of Cody and Tater playing HIDE THE BALL. Tater is very vocal in this video.