Discussion Starter
·
#1
·
I've pretty much gotten the hang of my job, but I still haven't learned everything since my boss is on vacation for a few weeks.
Basically, I walk dogs for at least an hour or two and do a bunch of cleaning. The weather has been pretty nice, so at least I get to be outside walking dogs and not stuck inside all day!
My favorites have to be the seniors. Some of the other people get a little bit annoyed because they have to slow down and be more careful around the older dogs, but I love it. We have one particular dog that has had eye problems her whole life and had one eye removed, then the other a bit later. She is the happiest dog ever and it doesn't seem to phase her. You call her name and her tail goes wagging like crazy, whacking into the wall or your leg.
Then there are a bunch of other seniors, lots of lipomas, hair loss and all the rest of the things that come with age.. but they don't bother me at all. I give them lots of extra snuggles and we take extra long walks.
We also have our share of crazy puppies and big dogs. Everyone else dreads walking the crazy, jumping, flipping dogs, but I love it! We have one crazy chocolate Labby girl who is there quite a bit and she has sooo much energy. I'm used to it, so it's no problem for me!
There is, of course, some "drama" between a couple of the kennel workers, but I just ignore it and keep telling myself that it's about the animals.. because in the end, it really is. I don't waste time talking to people who have such bad attitudes.. I'd rather spend it with the dogs!
Here's one of my favorite girls.. She plops over anywhere.. middle of the parking lot, grass, in her run.. anywhere for belly rubs!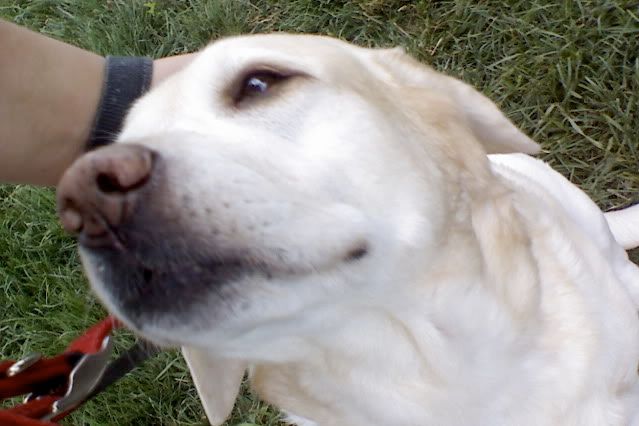 And my buddy boy who was so terrified of everyone and everything that he had to have his stuffed toy with him..!