Discussion Starter
·
#1
·
The settling of the Great Plains was both a struggle against nature and often a struggle between groups with different ideas as to how the land should be used. Hench the title of todays picture thread.
The "Homestead Act" that became law Jan. 1 1863 allowed a head of a household over 18 to claim 160 acres of land, live on it and improve it for 5 years and then one could get the title to the land, it allowed up to 7 years to meet the requirements. Also an earlier law allowed one to claim 160 acres, make improvements and buy it for $1.25 an acre and another allowed 160 acres with the planting of 40 acres of trees in the treeless regions. this was fine and good in the wetter eastern region of the Great Plains where often just a quarter section (160 acres) was enough. But further west around the 100th meridian the annual rainfall was 20 inches or less and the country was rougher.
This land was more suitable to grazing cattle, required far more land. At first with better farm land east to be settled, the ranchers often claimed 160 and ranged their cattle on the Public Domain. As farmers came further west the Public Domain started being cut up into farms. Often fields were fenced with barb wire to keep range cattle out. Also many ranchers had cowboys and others make claims they later bought and made blocks that were fenced with land in The Public Domain fenced inside. This lead both sides to often cut fences, if crops were destroyed farmers would leave broke.
Todays picture is a 1900 ren-actment of an 1885 event on the Brighton Ranch in Custer County where 15 miles of fence were cut one night. The men were often well armed and masked. This picture was of course taken in daylight and was for Butcher book, "The Pioneer History of Custer County" an often used source for information in other books.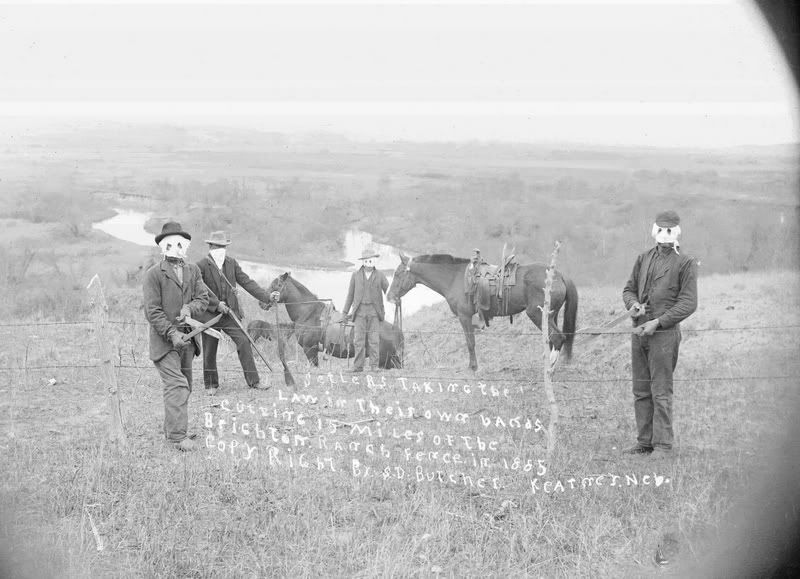 The fence cutting became such a problem by both sides that a law in Newbrassky made it a criminal offense, a felony with up to 2 years in prison for possesing a wire cutter on the range.
Not wanting to violate the law, Mr. Butcher had these fellas us wooden wire cutters in his ren-actment. ;D

Yesterday in the crossbow post I mentioned it could have been intended to use on "Slow Elk" this term was used for cattle, shot a butchered in a canyon and the meat used to feed ones family or sold to a butcher in a nearby town.
Since the cattle were on public land and often the farmers had lost crops to cattle it was often considered fair. Of course the cattlemen did not think so, this often lead to death and violence on both sides.
Edit, spell check must not work on the title. ;D