Discussion Starter
·
#1
·
Today was Bark in the Park at the Atlanta Braves (vs LA Dodgers) game. You are allowed to bring your dog. They have a special section for the "dog people" and it is really cool. The dog area is quite large....and had 3 sections of seats designated for people to sit with their dogs and watch the game. A large doggie daycare staff worked the area and kept all the water bowls refilled and the kiddie pools cleaned and refreshed. They had all kinds of treat stands and goodies for the dogs.
My son and his wife took their boxer (Heidi) and I took Sally. Well, I was a little worried about taking Sally. She does not do well around other people and dogs. I am working on it, but she still goes crazy....jumping up, going wild....you know what I mean. So I figured I would have an entire Braves game of fighting with her. Well, was I ever wrong!!!! She was absolutely perfect. She did pull on her leash some, but other than that, she never jumped up on anyone....if she started getting too active and playful with a dog, I just corrected her and she stopped immediately. And when we went and sat in out seats to watch the game, she just sat (and laid down) right there by my seat like a perfect little lady!!! I was so proud of my Sally!!!!!!! ;D No jumping up on me or anyone else....no bugging me for attention....no sniffing other people around her. You have no idea how good it made me feel that she is actually getting it! ;D ;D ;D
Here is a picture of Sally and Heidi:
Sally playing in one of the kiddie pools: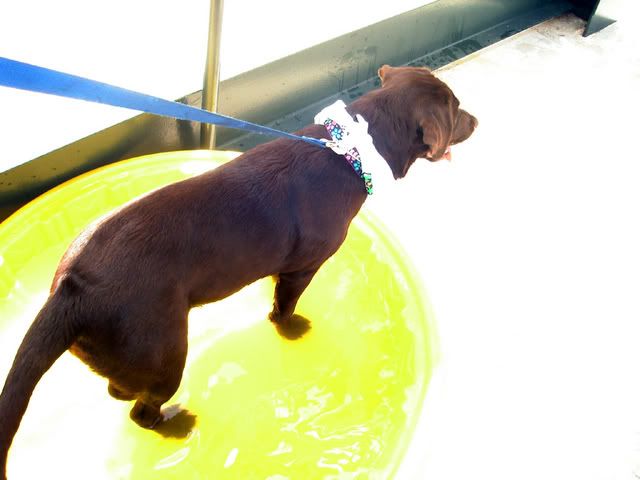 Sally and me sitting up on this big chair thingie:
Sally up in the stands by me. She is such a Braves fan. (Notice the complimentary Braves bandana):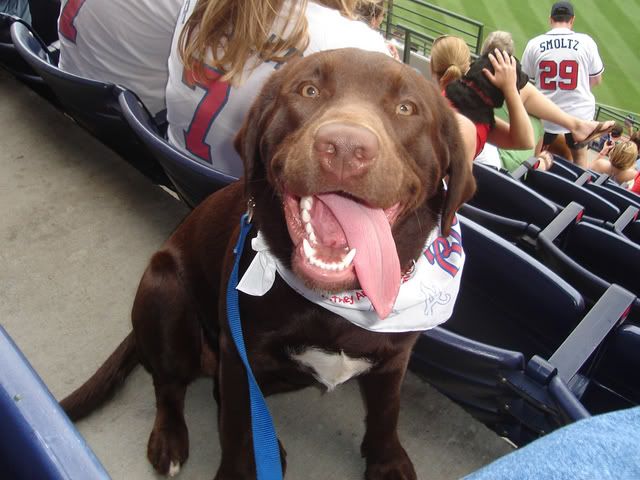 Son and daughter-in-law and Heidi. (She sat in his lap for almost the entire game.)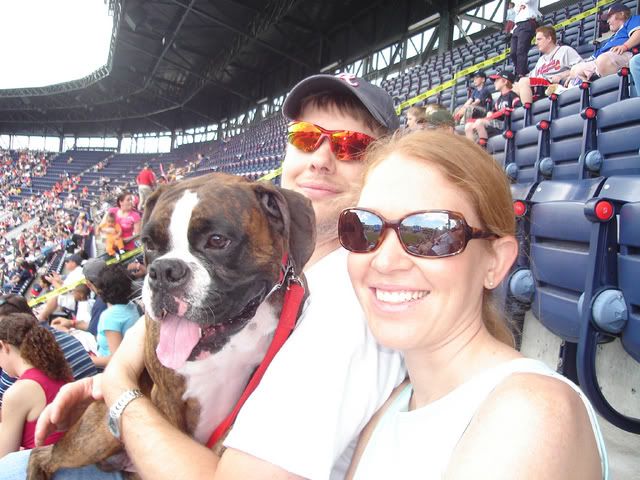 The three of us with Sally and Heidi watching the game.
On the way home, Sally crashed on my son's lap in the back seat. Heidi fell asleep on his other leg:
We had such a great time!!! The dogs we well behaved....and the Braves won!!