Discussion Starter
·
#1
·
Late tonight,I was in bed and my g/f woke me up,I was up over 24 hours before I went to bed to start with,darn health issuses.Anyways.My brother wanted me to come get his Lab cause he keeps jumping the fence.This has been ongoing and his G/F didn't want him here.She took the dog to her moms caged all day rarely getting out for a walk and was just horrible for about a month.I was pissed and was yelling at my brother everyday to do something.Bring him here and he can stay for a little while.Thsi week,her mom got sick of takin care of him and she was forced once again to take the dog home.He is not fixed and was jumping the fence.They chased him 1.5 hours tonight and he finalyl called and asked if I would take him until April 30 th whenhe goes in o be fixed.I was very hesitate at first and said no,it is not my problem.I went off and yelled at him for treating the dog like a piece of ****.I finally called back and agreed to take him until April 30th and not a day later.They better be at my door at 8am picking him up for the vet visit.He has not tried to get out of my fence yet.Of course with his brother out withhim and me outside with them playing the confusing game of fetch,he doesn't have time to or even wants to jump the fence now.He has a playmate for the first time in months.Harley has a few bad habits i am trying to break.Instead of whining at night to go out to pee he lifts his leg and does it through the crate.I am up most of the night and am takin him out 1x per hour by himself.Maybe if he sees someone is listening to him,and he will whine to go out and do his business.I can't put a water bowel in his crate either.He dumps it every time within 5 minutes.After playing I offer him water and stand there for 5 minutes or longer until he is done.I also have an old sandbox outside i fille dwith water for when they are out playing they have water.I empty it 2x a day and refill with fresh.Harely stands in the middle drinking lol I will get a pic of it sooner or later.
So I took a few pictures tonight.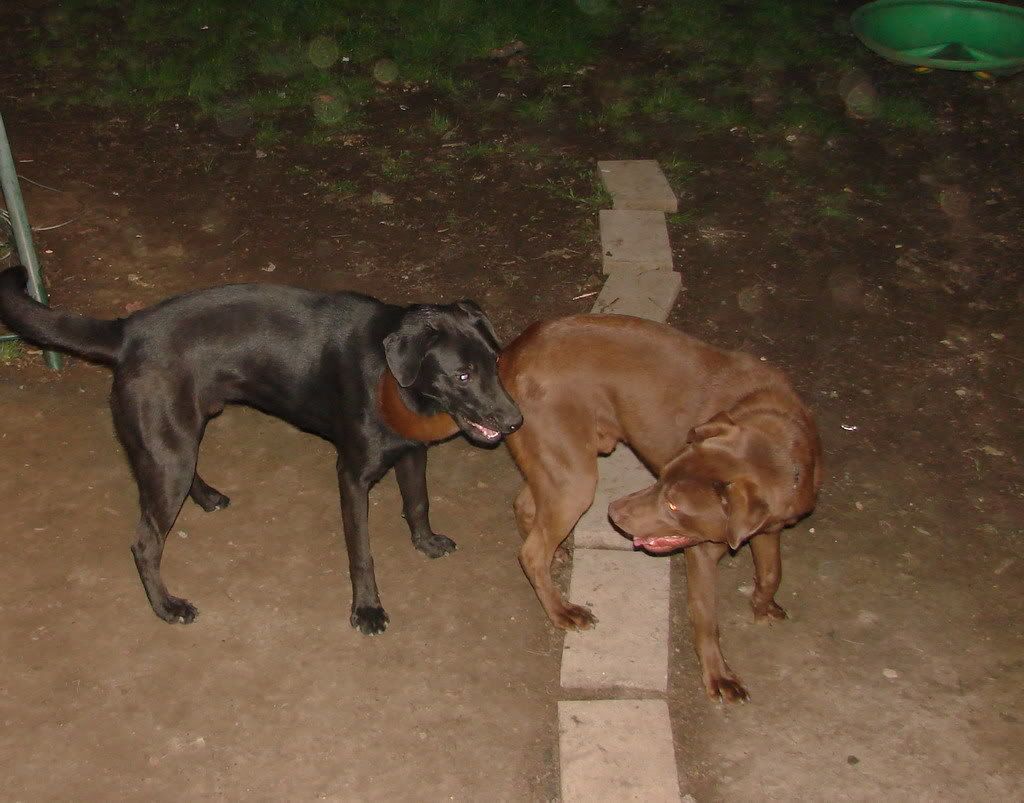 Trust me,they are pnly playing rough.If not i would have broken them up and split them up.