Discussion Starter
·
#1
·
Google Earth has recently updated images in our area to late March of 2008. As a result, our home and some of the training waters on our property are now visible.
There's a long white rock driveway from the highway to the house. It's surrounded by 7 acres of lawn and a pond just 40 yards from the house. The rest of the property includes a steel barn and just under 50 acres of pastures with three ponds and two wetlands areas. We had drawn the water levels in the pasture area way down before this image was taken. If you look closely you can see a number of yellow "dots" in the pastures. Those are 5' X 8' round hay bales that had just been baled following the first cutting of the season.
See why the dawgs have such a happy and never ending opportunity to do their retriever stuff?
The next image is five miles North of our home on a 2nd property we own and call the "Wetlands". It is a 56 acre parcel that we bought and developed almost entirely for waterfowl hunting. We do cut hay on the area adjacent to the wetlands 2 or 3 times a year depending on how much rain we get.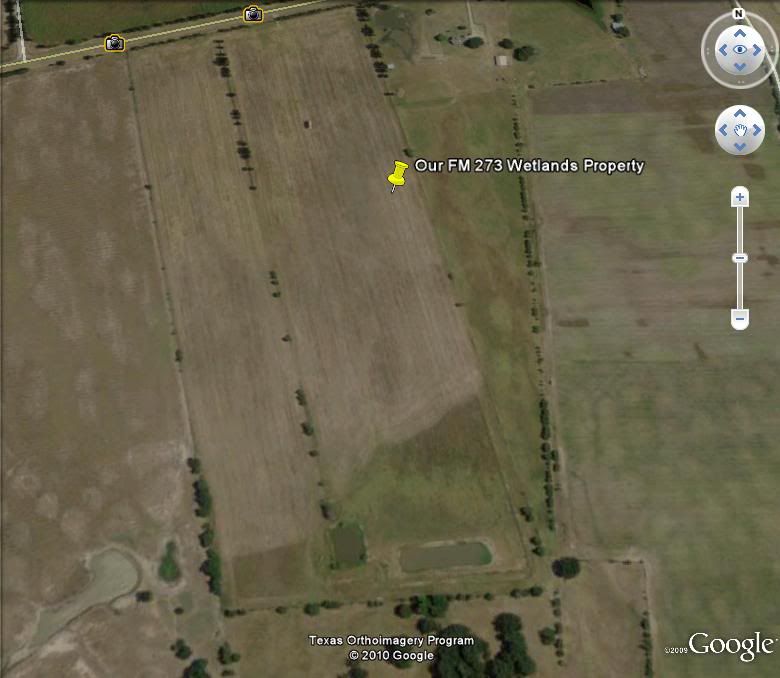 In this image we had drawn the water level way down for spring planting. In the bottom center you can see two smaller ponds. They are surrounded by a darker area that appears to be stained (wet). That is the area that we flood in September to an average depth of 12" to 18" before the hunting season after the planted crops have matured.
That is Cappy's and Remi's favorite place in the world ... they get to do what they love the most (except eating) for three + months each year. Hopefully this year Rusty will be able to join them.