Discussion Starter
·
#1
·
Cappy and Remi have helped me design and carry out an off-season project that started in early March. I was determined to make several two man (or 1 hunter and a dawg) low profile pit blinds for use around our 7-1/2 acre wetlands where we had lots of late season birds but they were very shy of our above ground blinds. I decided to use Rubbermaid 150 gallon stock tanks that are 25" deep X 39" wide X 59" long and are large enough to accomodate a hunter and dawg or two average sized hunters. These "pits" are buried just above the high water line so there's no need to anchor them as the ground water is below the bury. We will back fill around each and then plant with matching rye and other native grasses.
The general idea is to bury a pit right up to its ledge all the way around. The frame for the front panel that faces the water is 30" high by 55" long and is made of 3/4" PVC schd 40. it's hinged at the front bottom so that it can lean back towards the hunter or lay down flat in front of the blind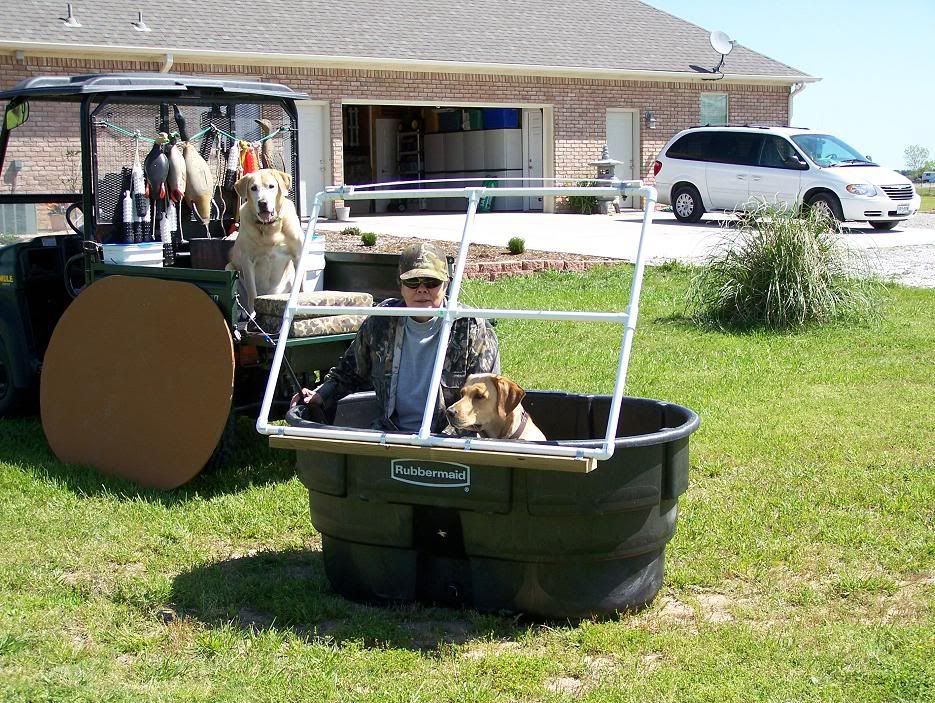 Here it is in the in the down-to-shoot position.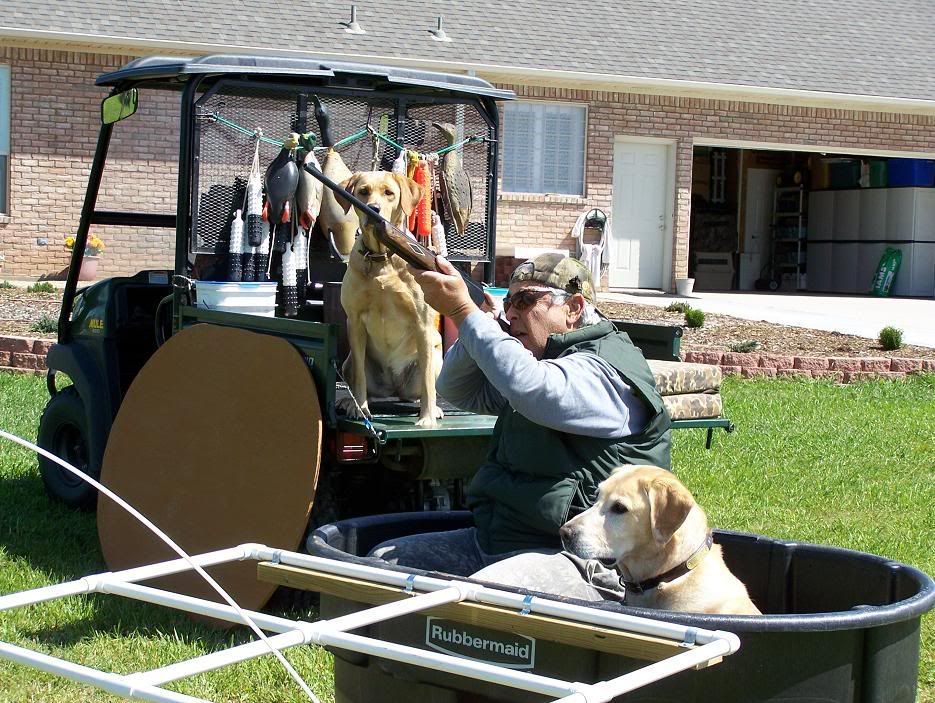 The 30" high front is designed to lean back towards the shooter at a 30degree angle where a stop holds it in place. There are two 10" X 18" camo netting viewing ports sewn into the upper area of the front panel. A 22" wide overhead roof is made of 1/2" PVC schd 40 and is attached by three machine bolts that are permanently mounted to the front top, and then the roof is quickly attached or removed by three oversized wingnuts. The detached roof stores inide the blind when not in use.
Both the front frame and roof are covered in 1000 denier Mossy Oak Shadow Grass fabric, as is the 5/8" thick plywood top that secures the entire top of the blind when it's not in use.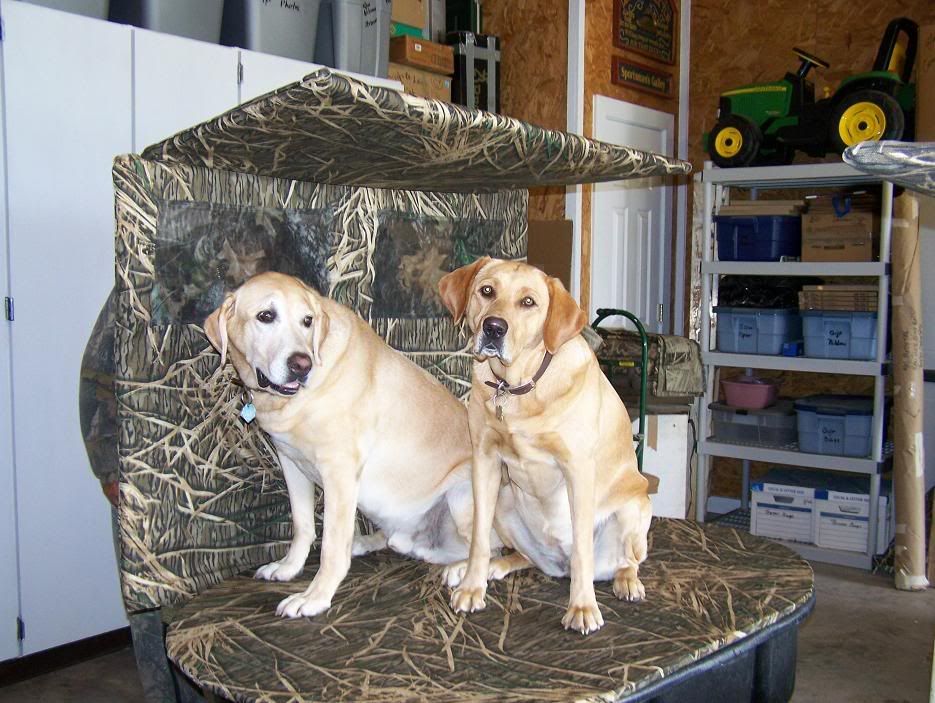 Here's 2 of the 3 blinds we've made so far with their roofs off and stored inside the blind and the full plywood cover in place with the front panel laid flat back over the blind cover. Everything is held securely in place using two 36" long truck tarp straps, secured to an eye hook in the front of the blind then stretched tight over the cover and front panel to the lip of the pit blind in back. It's weather tight and critter resistant.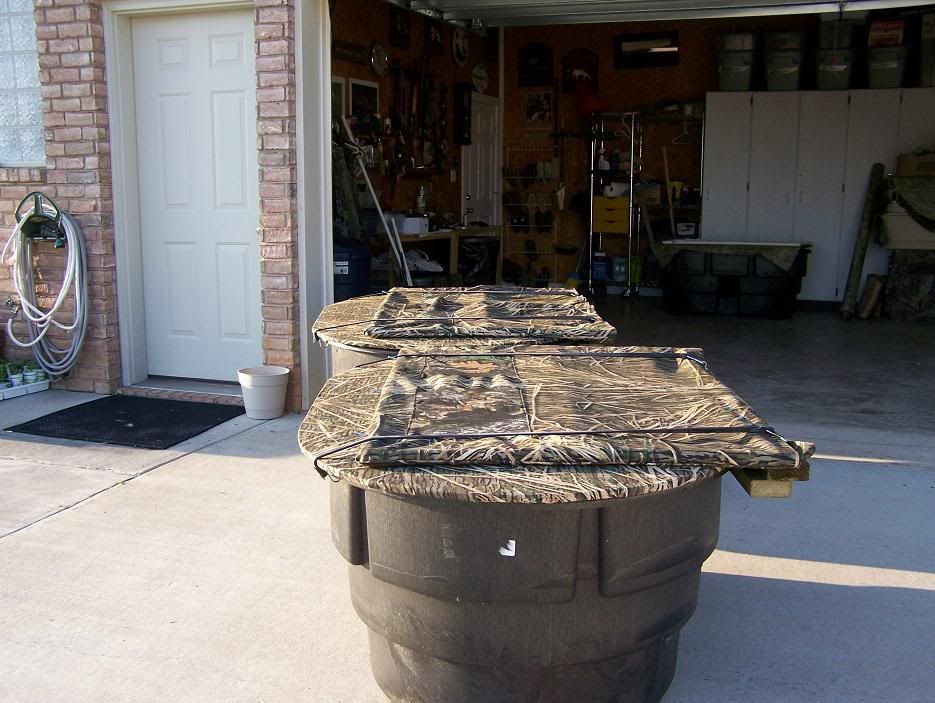 Here's my two water monkeys (opps assistants) on the secured blinds just to demonstrate the strength of the tops.