Discussion Starter
·
#1
·
We went to our first CPE trial today, which was also a first trial for both dogs, and me! We had a great day!!
Peanut rocked her jackpot (like gambler's) course, won first place and Q'ed! Good pin! Then, halfway through her standard course she decided she was not going to do any more tunnels or the chute, which is very odd since those are two of her favorite obstacles. I thought maybe it was a weird fluke, but she did the same thing on the colors course. So, jumper's was last and I just made my own course with just jumps and the tire so she could end on a good note. At the end of the trial the judge graciously let us go in and work the tunnels, she helped me do some restrained recalls through them and by the end she was running through them happily again. I wonder if maybe she stepped funny inside a tunnel on the standard course or something. The things you learn in trials! I would have sworn if she was going to have issues with anything it would be the contact obstacles, I NEVER would have guessed she'd balk at the tunnels/chute. Ah well, all in all she was great! Flew over the jumps, no issues with anything else. Listened well and really tried hard, GOOD GIRL!!
Here's her with her first place and Q ribbons: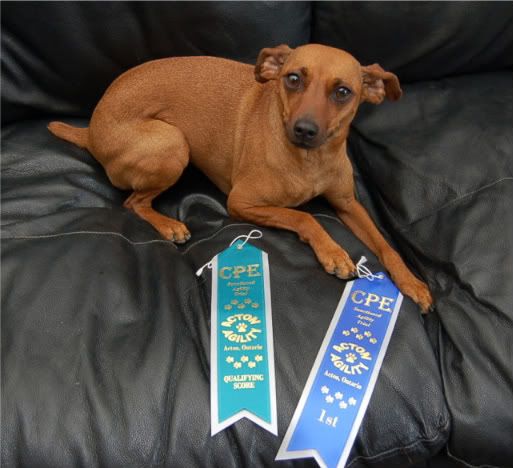 Minpin on the start line. How cute is she?
Flying through the air with the greatest of ease!