Our dock diving weekend! **Added video**!
Added speed retrieve video!!
http://www.youtube.com/watch?v=ZWZg-etvq_I
We had sooo much fun. Dan and I took Baloo, Peanut and a co-worker's dog that we're dogsitting "Ace" up to Scugog this weekend for Boo's second dock diving competition.
He jumped himself out of novice and right smack into the middle of the "junior" pack, which means no spot in the finals or placements, BUT he did post a new personal best of 13 feet 4 inches!!
He's getting better and better.
He also rocked his first attempt at speed retrieve, posting a respectable score of 9.94 seconds, placing third in the "express" division. Go Boo!
Overall, awesome weekend!!
A few pics:
Git that duck Boo!!
Catchin' some air!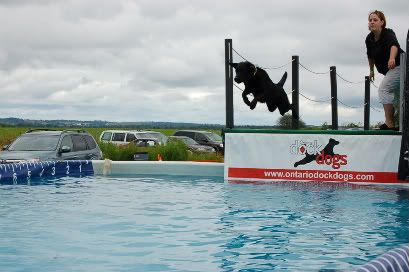 Makin' a splash!