Discussion Starter
·
#1
·
Ok... where do I begin?
I guess I'll start with the least exciting news... I FOUND AN APARTMENT!!!! Moved in yesterday morning... (yes that's right, the day after I got back from vegas I moved as well... ugg!) I moved to a 4th floor apartment and due to mom stuff (and it being a 4th floor apartment)... I took a plunge and hired movers (instead of having John help me move). OH THANK GAWD!!!! They were done in 2.5 hrs... it was awesome!
Pictures of the new place should be up on my site in a few...
http://web.mac.com/milbran220/iWeb/Lindsay's Website/New Apartment.html
(if you are interested) Over the next few weeks I'll decorate... get some furniture :
... but there it is... in it's unfinished glory. (what a girl, I did the bathroom first
) Honestly it feels just OH SO GOOD to be living alone again... with the whole place mine... it's near a lot of stuff (restaurants/shops) too... reminds me of the days I lived a half block off State Street in Madison.
It was a bit of an adventure getting here though... My flight out of vegas was supposed to leave at 6 pm, getting into Milwaukee at 11:00 pm local time... I had movers coming at 8 am so this was cutting it a little close (still had some last minute packing to do). Well at 4:30 pm when I arrived at the airport, I learned my flight had been delayed til 11 pm!!! Yup... 5 extra hours in the airport. I didn't get home til 4:30 am... caught about 1 hr sleep on the plane, and about 2 hrs (if that) sleep at home before getting up to do my last minute packing. I'm happy to say though that I did it! By 10:30 am the movers were done and I was in my new place. Just waiting on a mattress and cable guys to come over. (sleep and internet... that's all I need
)
And now for the really good part...
So... vegas was great... a nice high 70s/low 80s weather… warm enough to walk around in a sleeveless top but not really warm enough for a cabana (sorry Dan... no cabana pictures this time)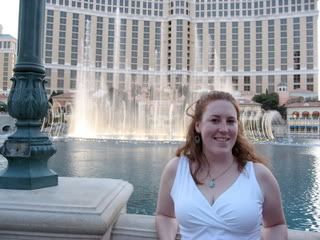 I met up with a boy...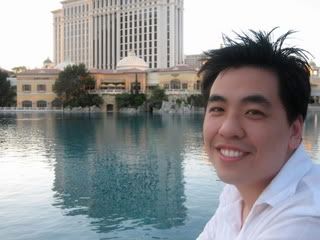 We had a great time... lots of laughing...
And just walking around checking stuff out
Thuy is a real sweetie... he even delayed his own flight (and took one 4 hrs later) to stay with me in the airport while I waited for mine.
So yup… that was that… I had a great time and felt really happy and content… haven't had that feeling in a very long time. Even with the mom stuff going on and the stress of having to move when I got back... I still feel the happiest I've felt for as long as I can remember.