Discussion Starter
·
#1
·
Gin and Miss Aila go to work everyday with my BF who is in construction -- they both love to hang out in the back of his truck and eagerly await for his coffee / lunch breaks because they know then it's treat time!
There's a heater in the back of the truck so the girls stay nice and warm on cold days, but once in awhile I will also put one of my old sweaters on Gin. These pictures were taken before we got Miss Aila, and I laugh every time I see these pictures. The expression on Gin's face says it all -- reminds me of when my mom use to make me wear a touque to school in the winter -- I hated wearing one because it would mess up my hair.
Resting on dad's leg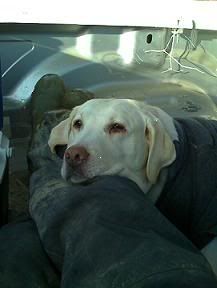 During the summer -- waiting for dad to come by the truck so she can get a treat!