Discussion Starter
·
#1
·
Was taking Sam outside to go potty yesterday and I notice he has a red line along his back leg. "Sam did you get itchy and scratch on your skin again?! We just got your coat looking pretty again!" I get closer...not he did not scratch his skin HE GASHED IT OPEN.
It wasn't bleeding which was weird it was pretty big. Back up the stairs we go and I call the vet who has a 24 hour answering service, thank God.
Vet calls me back and I say "Hello?" He replies "Which dog is it."
I explain Sam has this gash on his leg that we have no IDEA how he got! It wasn't bleeding about six inches in length and the bottom was opening to almost an inch wide! He tells me to put neosporin on it tonight, no food or water, and bring him in first thing in the morning and he'll see if Sam needs stitches or not. Then my wonderful vet takes the time to actually ask me how Lucky was doing, getting around ect and answered a few questions I had about her activities.
So Sam slept in the living room with both Lucky and I so I could make sure NOBODY was hopping around! I put some neosporin on his wound. This morning off to the vet we go!
First the vet looks at Sam's leg and decides it's not bad enough for stitches but she (diff vet from the one that called me, our office has two and the girl almost ALWAYS sees Sam) wants to put a few staples in it. So they take Sam back and put some lidocaine in his wound, then she comes back for Lucky while Sam's leg is numbing up.
Lucky got her stitches out and is doing wonderfully!! Her leg is still swollen quite a bit, but they think she's going to make a full recovery and we'll be swimming next summer! She even let some of the attendants pet her.
Sam comes back out with staples in his leg and orders to take it easy for the next five days.
We're all pondering over how in the world he hurt himself! He never acted like he was in pain, he never cried or made any noises about it what so ever! I get everyone settled and I go out searching in the yard to see what in the world could have injured him. Finally found it!! The lattice work around our deck got tore up the other day by a certain lab near the stairs trying to get at a mole! Yup there's a jagged piece sticking out.
Could have sworn I had gotten all that. So now I'm tearing all that work down until we can just completely redo it.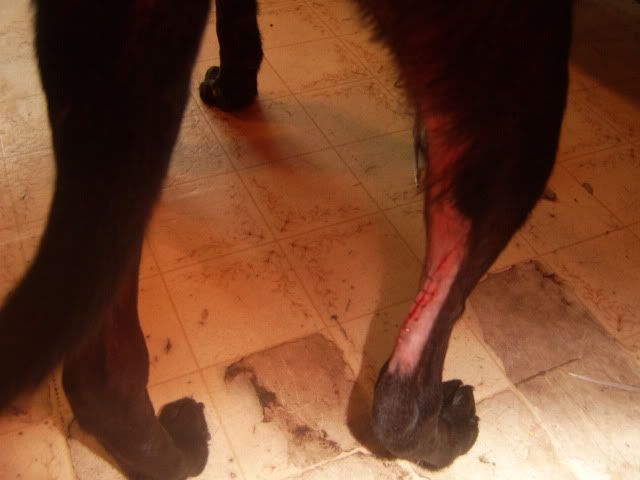 Sam's leg.
Anyone need a house guest for a few days? I think I need a vacation!!
Happy is on strict orders to do nothing but be a lazy hound for the next six months!!