Discussion Starter
•
#1
•
We intentionally arrived at Carol's blind about 5 mins after dawn this morning. I wanted to get a good look at the water (ice) to see which (if either) of the dawgs would hunt with us at opening. It was obvious as we approached along the dike road that the entire wetlands was iced over. The only question was how thick.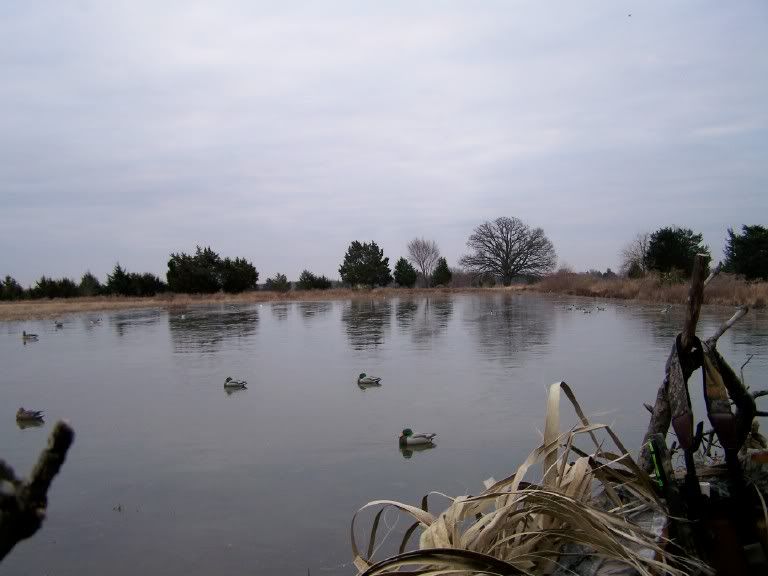 As Carol off-loaded her gear from the Jeep into her blind, I walked around in front into the wetlands to check the thickness of the ice. It was at least 1/2" - 3/4" thick and definitely NOT ok for the dawgs to retrieve in. I parked the Jeep in our usual hiding place, left both dawgs in the back inside and walked back to Carol's blind. The whines, cries and canine protests died down after a few minutes.
Carol was all set and ready to go in the blind when I arrived. I came inside and was loading the gun and getting my calls on when out of the corner of my eye I caught a glimpse of a cupped Gadwwall heading our way. I hissed at Carol to take the shot but she was fumbling with her gloves, coffee and a cigarette and said ... "No you shoot" so I stood up and smacked the bird at about 35 yards and back pedaling. If it didn't die in the air, it sure did when it hit that ice at 30+ mph.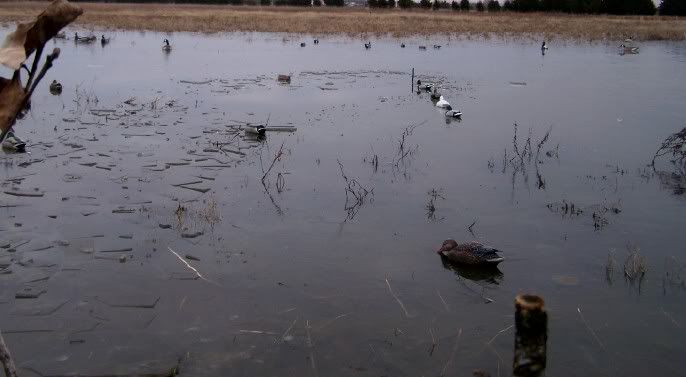 I had to use the 12' Joh boat to get to that duck because it fell on the ice in approx 4' of water and I didn't have waders on. I used the oars like push-poles to go out through the ice to recover the bird and get back in. Here you can see the thickness of the ice ...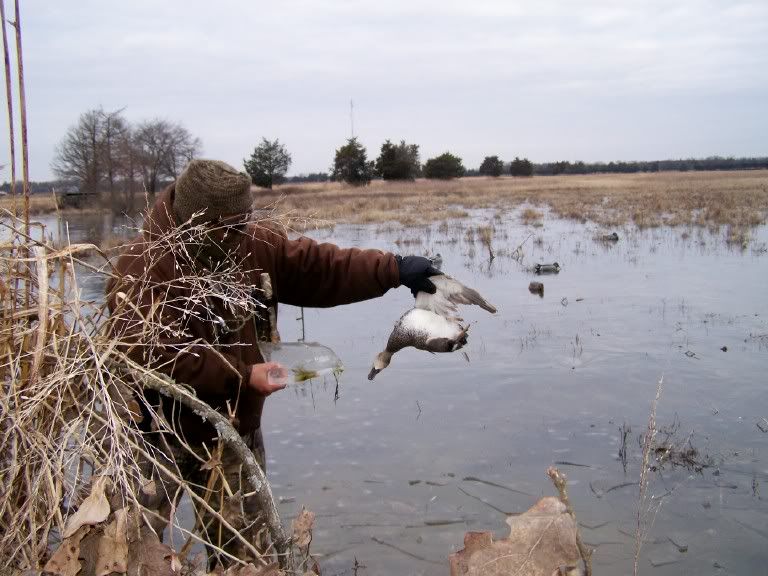 Within the next 45 minutes we had close to 150 mallards land on the ice or back in the frozen-over groceries 75 yards or further from us. Couldn't get a decent shot or pull them in closer. Needed open water for both. Eventually I managed a single Drake and later a double as they circled once too often close overhead. All three required L-O-N-G push pole retrieves via Jon boat, breaking ice most of the way. When I finally got the boat into water of less than calf-high-boot deep, I got out and pushed it ahead of me over the top of the ice. You may note that I use a 14' extension paint pole for a decoy and dead duck retriever. First the single ...