Discussion Starter
·
#1
·
Okay guys my Mommy has definitely lost her mind this time! She has just gone to far! Just lost her noodle she has!
Remember how I have MY OWN ROOM? Remember how she cleans it for me?
She went bonkers and changed it! She cleaned it and mopped it and put down this UGLY new rug that she had in the garage! She took stuff out! She put more stuff in! She sprayed and she mopped and she sprayed some more. I barked and I cried at her to stop! BUT SHE DID NOT LISTEN GUYS!! I told her that stuff was stinky, she made the room smell like pumpkins! Last time I checked turkey and pumpkin time was in November!
She politely (though I think she was being sarcastic) told me that until dogs poop smelled like roses she wasn't going to have it in her house! I told her that was quite a silly thing to say, I don't eat roses so how can my poop smell like them? I'd be quite happy to eat some for her.
Then after all that cleaning do you know what she did?! She moved my sister, Lucky's, bed into that room! THAT IS MY PLAYROOM WHAT IS MY SISSY DOING IN THERE?!
It doesn't stop there....OH NO, she put a mattress in there for herself to sleep in there! So not only is my room stinky but my mom and my sister have taken it over! OH this can not be happening to me!
Mom says its because Lucky can't sleep on the bed and I can't play with her right now because she had something called a surgery. So Mom is going to sleep with her and I get to have the bed with dad all to myself. You might think that's a pretty good deal but it's not! Dad snores he snores horribly and Mom always makes him stop. I howl at him, but he don't listen to me!
So I've lost my room to my sister, I have to poop outside, I'm not allowed to play with my sister because mom says I'll hurt her stiches things...though I've never hurt her before. Hmmpph!! This is the worst day of my life. Help me out guys!! How do I get Mom to get her senses back?
Maybe I should just go visit Milly until things are sane at my house again...
Here I snuck some pictures so you guys can see just how awful things are!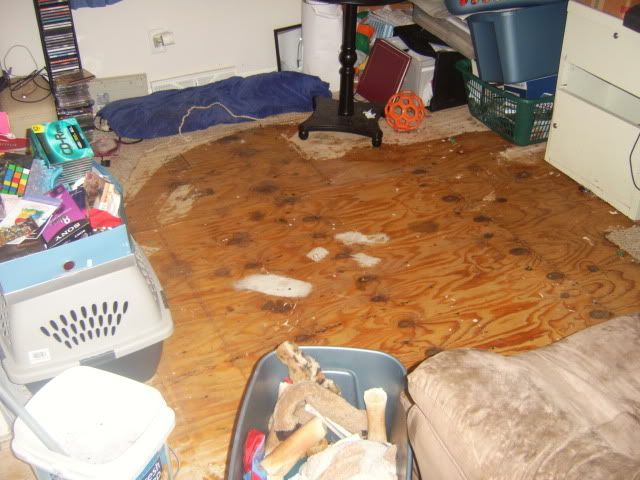 This is how my room is SUPPOSE TO LOOK.
Hanging my head at this awful travesty!!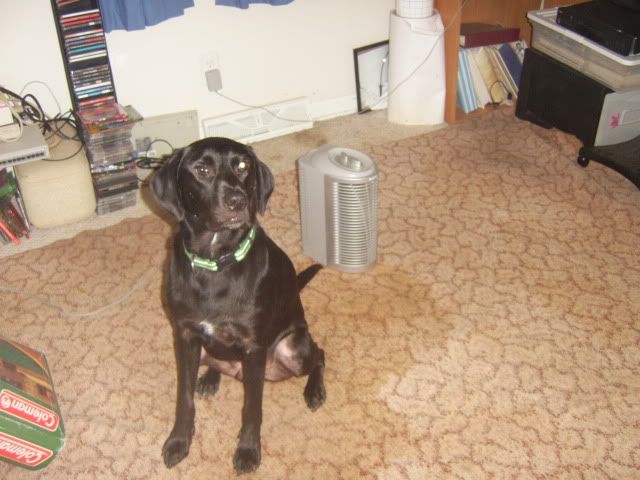 Me telling mom to knock it off....it didn't work!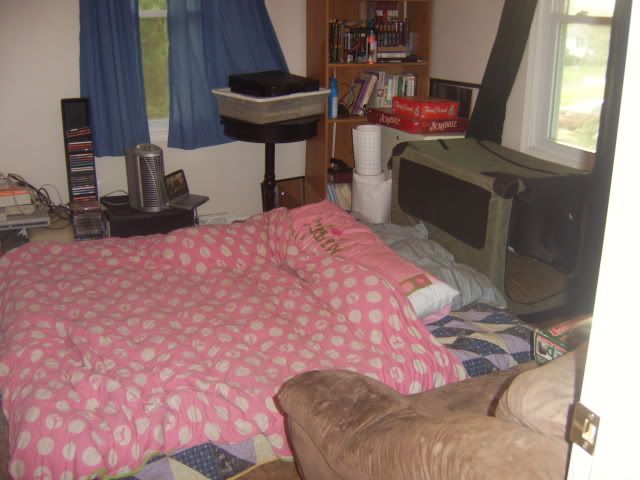 This is how it looks now. Ugggh.