Discussion Starter
·
#1
·
The Boo Man and I were in London this weekend for his first dockdogs competition!
He was a *little* nervous at first, doing a bit of dancing and whining at the end of the dock, quite possibly a bit of stage fright as the crowd was pretty big. But, he took the leap eventually! He placed third in his first wave with a jump of 8 feet 6 inches, and first in his second wave with a jump of 9 feet 3 inches. Third wave he placed second with a jump of 9 feet 2 inches and in his last wave he won first again with a jump of 9 feet 1 inch. All that secured him a spot in the novice jump off!
In the jump off he pulled out a personal best of 10 feet 9 inches, earning him second place overall in the novice division, not bad for his first time out! Woooot!!!
He's progressively jumping bigger and gaining confidence, and I think I'm hooked on yet another dog sport, LOL!
Anyhoo, I had Dan come along and photo-document!
Here he is at first, a little nervous in practice. You can see someone is splashing at the side to encourage him to go. There were probably three or four people shouting encouragement to him, everyone was so good to us newbies!
Off he goes!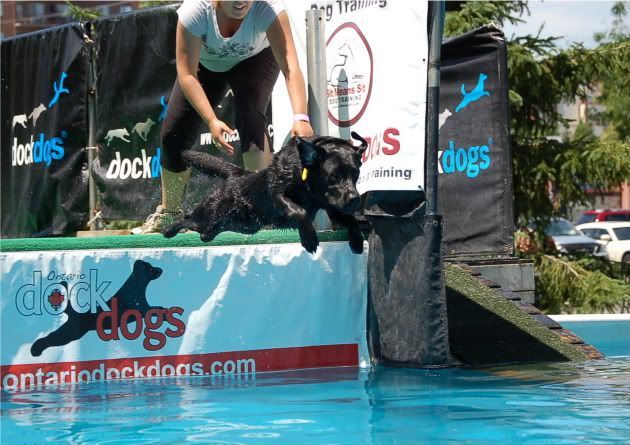 High flying Boo man!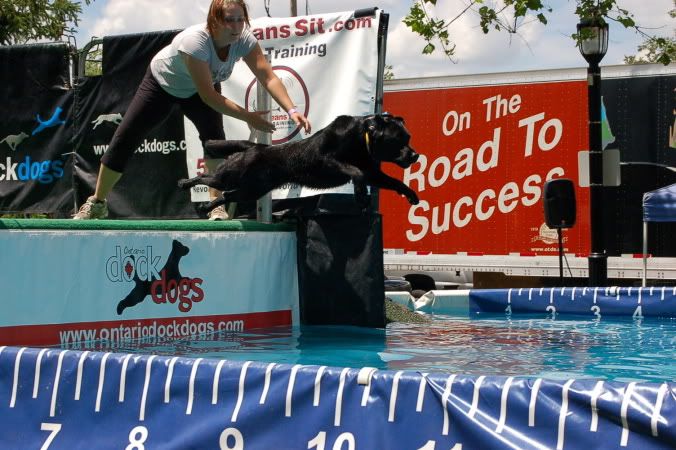 And a VERY tired boy posing with all his "loot" from the weekend.