Discussion Starter
•
#1
•
Well, this is my girl.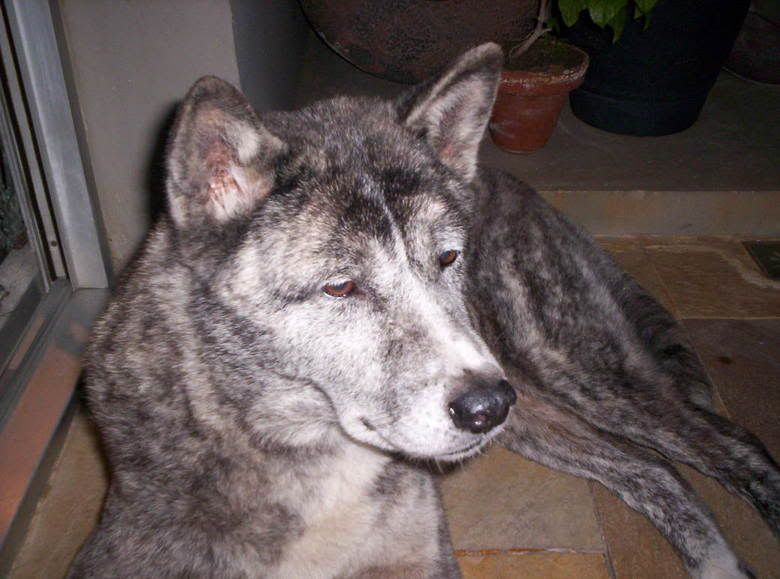 Hi!
Long time no visiting this forum. I noticed many new members since my last post. To them hi! Again.
To those who don't know me, my name is Sergio, I live in Brazil(Petropolis – Rio de Janeiro) and I'm lab blessed as well. Actually, I have two dogs: a 5yo yellow lab named Dash(in honor of the American writer Dashiell Hammett) and a female Akita, former stray who adopted me, named Lupe aka "Minha Loba linda"(say minnia low-ba leenda=my beautiful (she) wolf). The name Lupe cames from Lupus – wolf in latin for she's quite wolf like and beautiful) Both are the light of my life, along with a couple of other things. Both are doing great by now, but recently Lupe scared me quite a lot. Alow me to tell you the whole story:
Last year(about march) Lupe started to limp with her right front paw. I didn't pay too much attention to it, but after a while, she was still limping so I took her to the vet who prescribed some analgesics. She got better for a while but after she was limping again and getting worse and worse. I took her then to the best vet in Rio – Dr. Rubens Bittencourt and there, he took an X ray of her paw and gave me the bad news: she had a bone cancer and the only thing to do was amputation and even though he wasn't sure that it will save her life. Carina my lady, who is MD, also said after looking at the plates, that there wasn't no doubt about the doctor's diagnostic. The ugly stain on her bone was there, too cleary. I was devastated, my heart became tiny like a raisin, as we say here. But I decided that I will not mutilate her and keep her until it was possible without her suffering and then put her to sleep. I reckon you could imagine the cost of that decision to me. For a whole week I was down and extremely sad. Couldn't look at her without breaking in tears. Then I decided to react: I heard about an oncologist vet, Dr. Marianna Cazaux, and I brought Lupe to her, and she said that she could (maybe) try to make my girl last a little bit more with kimiotherapy(not sure if this is the correct form of spelling it). Lupe had 4 sessions with this treatment and meanwhile I did some reacherch as well. So, Lupe begun a new diet, based mainly on proteins and I also started to give her a homeopatic sort of Thuia pills, fish oil and an experimental medicine based on sellenium and zinc. She also had Tramadol for her pains.
After a month on this regime, she stop limping. Carina said that it was good, because it showed it wasn't only result of the tramadol, but that she was really getting better. Since then, she's all right. No limping any more. She could jump and run as before. She was even looking as happy as ever. Actually she was looking happy as a chick on the garbage(another Brazilian saying)
Any way, I had to be sure, I knew I had to take a new X ray, but I was fearing a disapointment.
Last week, I gathered all my courage and took her to the X ray. After the worst half hour, the doc brought and showed me the plate: THERE WAS NOTHING. Her bone was white as snow. The doctor was amazed! The bone was Imaculated!!!! The stain was completly gone. WOW!!!!
So, this is my story. I had to share it with you.