Discussion Starter
·
#1
·
I miss all of you...I haven't been around since I have been in and out of town so much and now studying both for final exams and the big USMLE step I I am taking in June! I promise I will try to check in more often over the next couple of weeks, but things are just going to get even more busy.
Here is a little somethin' to bring you up to speed"
1) Still no word on Shane's jeep....it is probably in Mexico. We are battling our apartment complex because they refuse to even acknowledge that the tenants here are having safety issues despite the multiple robberies and attempted break ins, including one yesterday where my neighbor was home! Oh yeah, not to mention a shotting right across the street from us lastnight. :
I have drawn up a petition, and had most everyone sign it demanding some sort of action be taken to ensure our safety. I will keep you posted.
2) The painting in the new house is great! I can't wait until I am up there and can take some pictures to show you guys the before and after, but that won't be until June. I promise I will do it then though!
3) I died my hair back to its natural color. Got sick of the high maintenance coloring, and figured it would be easier when I am on rotations. You will have to let me know how it looks!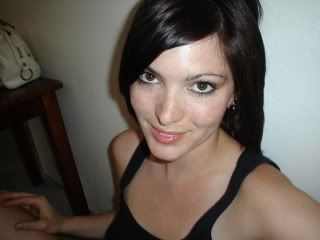 4) Bali is almost completely healed after the big snip - snip. He is as exuberant as ever!
5)I went to see one of my favorite bands play in L.A. last week (Muse) while visiting my dental student friend. We were nerdy and went into his clinic where he took dental x-rays of me and discovered that I have a cavity. So he is flying me out to be one of his licensing exam patients this summer!
I guess that is it for now...just tons and tons of endless studying besides all of that! I really have missed all of you, and wonder how you have all been. I have popped in a couple of times to check on things, but just have NO TIME!!! Crazy! I will try to drop in more often, but for the most part you will not see much of me until after the boards. Hope all is well!