Discussion Starter
·
#1
·
My little baby puppy is TWO years old today, I just can't believe it.
How can it be two years since I got the much awaited and anticipated phone call saying that you and your brothers and sisters had been born?? Two years since I gleefully headed out to petsmart as soon as I got that call to buy day-old you LOTS of new toys for when you came home to us? Just unbelievable.
I don't even know how to put into words what you've become to us in two short years. Your happy-go-lucky, bounding joy and limitless love endear you to everyone who is lucky enough to cross your path. You've singlehandedly made a dog lover out of your daddy, something I doubted would ever *really* happen. He loves you so much Boo.
We had a fun year going to dog shows too! You earned your Rally Novice title and your Canine Good Neighbour certification! We also started field work, and I love watching your little face light up when you realize what's about to happen, and then furrow in serious concentration when you're keeping your eye on the bird.
We love you so much Boo, you've enriched our lives more than we thought possible for one dog. You're such an awesome boy, and we're so lucky to be able to share our lives with you. You make us laugh everyday and remind us that life is short, and every single day is wonderful and one-of-a-kind and needs to be cherished and enjoyed to the fullest. We certainly had the "luck of the irish" on our side when you came to live with us.
So a very VERY happy birthday to our super special boy, I hope for many many more years of love and laughter and celebration to share.
Little Baloo and his brothers and sisters:
3 day old Baloo: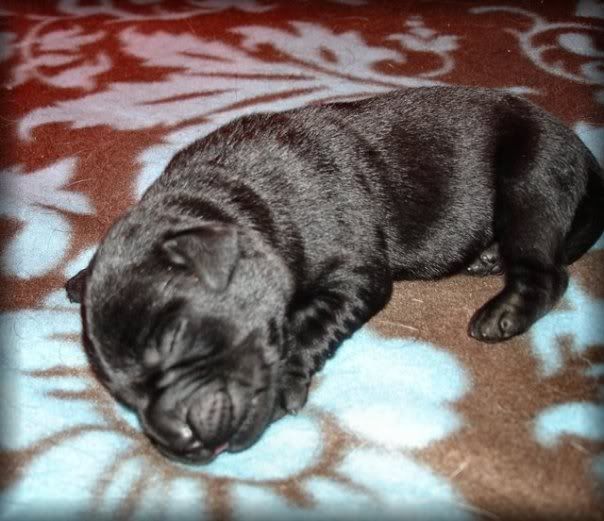 Cutest puppy in the history of puppies:
To the handsomest boy, all grown up!
I also made a montage, using a song that I just knew I had to make a Baloo-montage to some day. I have loved this song since it came out, mostly because it reminds me so much of Baloo. Everything from the island-y beat to the lyrics is just so *him*, and embodies the easy going, worry-free love of life that I enjoy so much in him.
So, Enjoy!!
http://www.onetruemedia.com/shared?...kin_id=601&utm_source=otm&utm_medium=text_url