Discussion Starter
·
#1
·
.......it was cold and snowy here. Well, snowy for Atlanta…maybe 1 inch of snow. I had talked to Sally's breeder and told her we were interested in getting a yellow lab, preferably male. And this time, we did not want a little puppy.
She said she had a 7-month-old yellow male that she was not going to be able to show because he couldn't keep his tail down. So she was trying to find a good home for him. She said he needed a job, and since she knew what all we were doing with Sally, she thought this bright, happy boy would fit right in.
So one year ago tonight, we drove out through the cold and snow flurries to get East Hill Sumos Yukon Gold, better known as Spud.
We thought he was the most gorgeous dog we had ever seen! And he was definitely the sweetest dog I had ever seen.
But within just a few weeks, Spud got sick…very, very sick with digestive problems. After a long serious surgery for what they thought was to remove an object that had his intestines blocked, they discovered he had Intestinal Bowel Disease.
Carefully and immediately, we put our Spud on the road to recovery with the correct food and meds. Now he is the picture of health.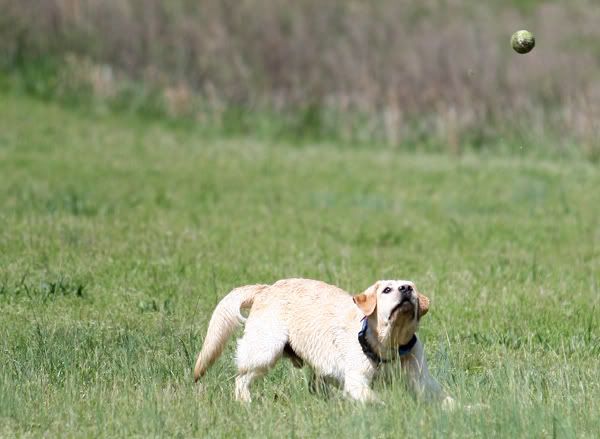 Dock diving? Well, at first, Spud didn't even want to go hear the water, much less retrieve an object from the water. (But he was sick and we didn't realize it yet.) Here's a video showing his first futile attempts at dock diving and water retrieving.
Spud's First Attempt
But after he started getting more healthy, his interest in dock diving perked up. With the greatest intensity, he would watch Sally at her events and practices. Then, out of the blue, one day, 'ole Spud started barking and barking to get up there on the dock.
And that was the start of his dock diving career. He now holds a Senior Title in Big Air with his personal bests of 19'10" electronically measured and 23'1" manually measured. This dog absolutely LOVES dock diving, and we couldn't be prouder of our Spuddy boy!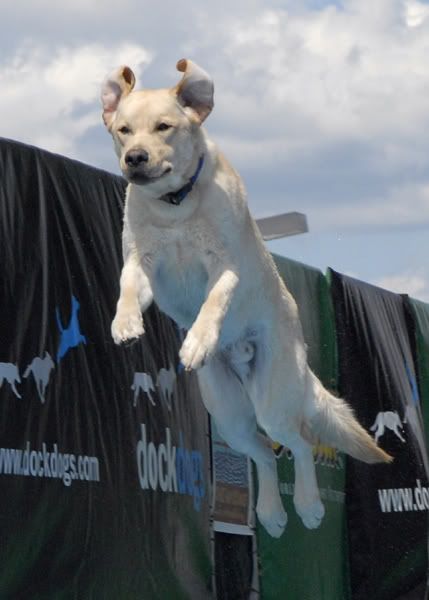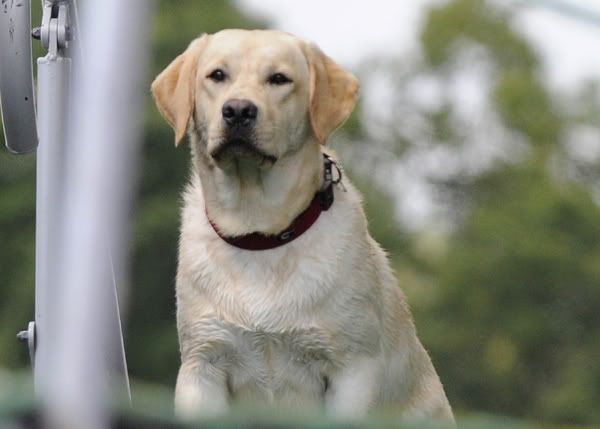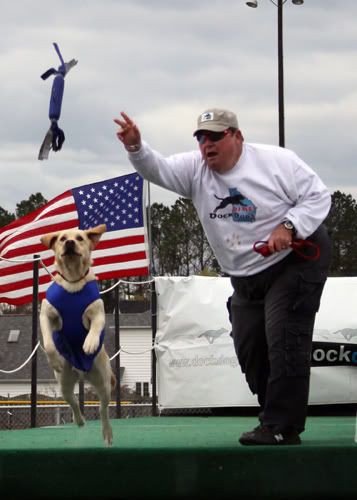 In this last year, he also has obtained his CGC and certification in TDI. He goes to schools and libraries and nursing homes where he uses his sweet disposition, good looks, and captivating eyes to charm everyone he meets.
We call our Spud a "diamond in the rough." While he certainly wasn't an actual rescue dog, he defintely has a better life now than before. (And the breeder agrees whole-heartedly!) He was THE best find we could have ever happened across. He is a true joy to us every minute of every day.
All I can say is…thank god for that up-turned tail!