Discussion Starter
•
#1
•
Phew what a weekend! I went to the best tournament yet. To set the stage, we had a few veterans and two greenies. We only had five running dogs total and two were height dogs so we needed them to run and run well as we didn't have any substitutions...we figured this would be a learning tournament and didn't expect a whole lot.
Saturday morning we shocked everyone including ourselves winning every heat in every race in our division. The dogs ran clean and fast. Jubilee was FANTASTIC as a start dog and we usually posted .1 starts although I had a lot of early starts. She consistently ran 4.6 seconds and even put up a 4.5. We even got a 23 second run and I posted a .005 start from 54 feet out! Then came the afternoon...one of our greenies decided to impersonate Beyonce..."to the left, to the left...I will only run in the lane to the left". So we had to switch out our lane challenged dog with a height dog when racing on the right and this meant that the other greenie, who has limited endurance, was going to have to tow the line. He did his best but punked out towards the end. We battled it out for first but in the end the other team won. SO we got second overall but we were still thrilled.
Sunday proved just as interesting if not more exciting. We had a rough morning as we were racing some different teams and the racing was SO close yet we lost each time. We were fifth place out of five but that was no indication of how hard or how well we had run. We were still having fun as the races were so close as in hudreths or thousanths of seconds apart. Then came the single elimination round robin. We headed in still in fifth place. We were matched against the team that beat us for first the day before and we WON! To our dismay we went up against the #1 in our division next but we posted two 23 second runs and we ROASTED them! At this point both races were on the left side so we were racing Jubs, height dog, and the two greenies. Finally we went up against the final team in our division but in the right lane. This meant we had to race our two height dogs (traditionally slower dogs) and the greenie that has limited endurance. They ALL stepped up to the plate. Jubilee ran 4.5s her fastest times of the entire weekend. The height dogs posted their fastest times as well and the greenie performed clean and fast without hesitation. We took it all for 1st place which put us at 3rd overall for the day after being at 5th. The racing was so close and intense that everyone stopped what they were doing to watch and we staged a comeback like you've never seen. It was a great weekend and Jubilee got another title...FDX - flyball dog excellent. I can't wait to do it again!
Here we are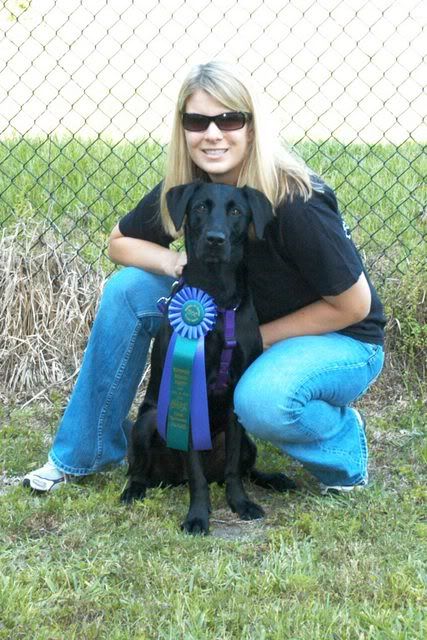 And the racing team
"Rip" an up and coming min pin (did not race but mom box loaded), "Arwen" this is the greenie Beyonce, "Eddie" FDCh-gold; our height dog, "Jubilee" FDX, "Rudy" FM; our other height dog, "Riley" our other greenie.