Discussion Starter
•
#1
•
So for my birthday in February, Thuy suprised me at work with not one, but TWO orchid plants (phals)... orchids are perhaps my favorite flower... though I love cala lilies and just any flower in general. Definitely a flower girl
Anyways... it was super cold and after taking them home, the poor plants experience bud blast (yes new vocabulary for Lindsay-the flowers and buds all fell off within a week) and I was SOOO afraid I had killed them! But I held strong, joined an orchid board... where they assured me that as long as the leaves looked healthy, that the plants were perfectly fine.
Well... fast forward a couple weeks later and I suddenly notice that more buds were forming on the end of the spike AND one of the plants has a new offshoot of buds lower down on the spike. WOW I must really be doing something right... (orchid board helped me get a watering regimine and fertilizer)
So in the past week... plant #1 has had one bloom open up and a second one is starting to open today, plant #2's best bud opened a few days after plant #1's did... I couldn't be happier!
Here is a close up of the orchid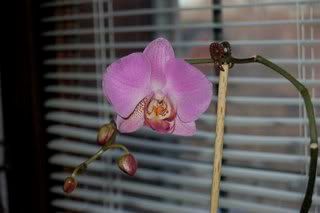 Any orchid people have any suggestions for what I should try next? I'm thinking maybe dendrobium... or even just more phals now that I know I can successfully keep one alive