Discussion Starter
·
#1
·
We went to a DockDogs event weekend in Troy, Missouri. It was a great event, even if the weather turned COLD!!
No good pics like I usually have. Hubby didn't go. It was just Sally and Hoppy and me.
Sally's finish:
2nd place in the Senior Finals
6th place in Speed Retrieve
4th in Iron Dog
Hoppy did his usual antics up on the dock...playing around, goofing off. Not anywhere close to a jump. But he was such a hit with the crowd. He even had the announcer laughing and the judges.
So we used his popularity and gave him a new job. At every DD event, they have a dog wear a special vest with pockets. They take the dog through the crowd and let people donate to the DD special charity...Chase Away Canine Cancer.
Well, there was this young man at this event who absolutely fell in love with Hoppy. So I let him just take Hoppy and work the crowd. He was a smashing success!! The kid let Hoppy give a kiss to everyone who gave any money. He really did very well collecting...he's such a ham!
Here he is with his vest. Doesn't he look great!!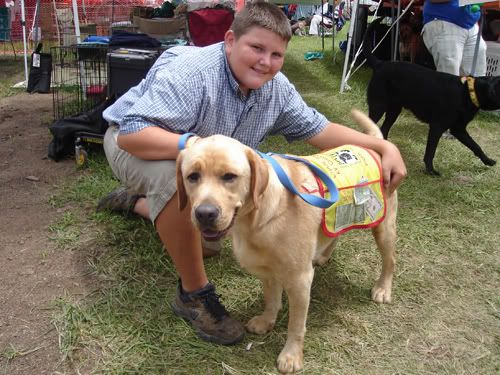 Here we are with our ribbons. This particular event gave a participant's ribbon to dogs who didn't jump, which was only Hoppy and one other dog, I think. So Hoppy got himself his first Dock Diving ribbon! (Of course, Sally had to show off her ribbons also.)