Discussion Starter
·
#1
·
All is well on the home front. Cash wants to play and Chief would rather sleep. I assume he did not sleep well in the shelter. He was very stressed there. Even growling out of fear at staff which is sooo unlike him. When I walked in to visit for the first time, the kennel boss said it was not going to go well and that he wouldn't even remember me..
Well! We showed them! I walked in with the kennel boss behind me and found his run. He barked at first until he heard my voice. Then he quickly turned into a 6 month old pup again. Play bow, wiggle butt and high pitched puppy bark.. I opened the kennel door and walked in and sat on his little bed where he proceeded to lick all the foundation off my face..
My boss just laughed and said, "Well, I guess he really IS your dog..." And she left us alone. I proceeded to break down in tears, worried about how I would be able to spring him from that joint if he continued to react out of fear.. I could tell right away that he was uncomfortable. Something is not right with him. He has a very check on Monday and for some unknown reason, I am concerned about his kidney function. We will see how that goes....
On my first visit, they would not let me take him out of his run to play so I sat in there with him for nearly 2 hours. When I got up to leave, I snapped this picture..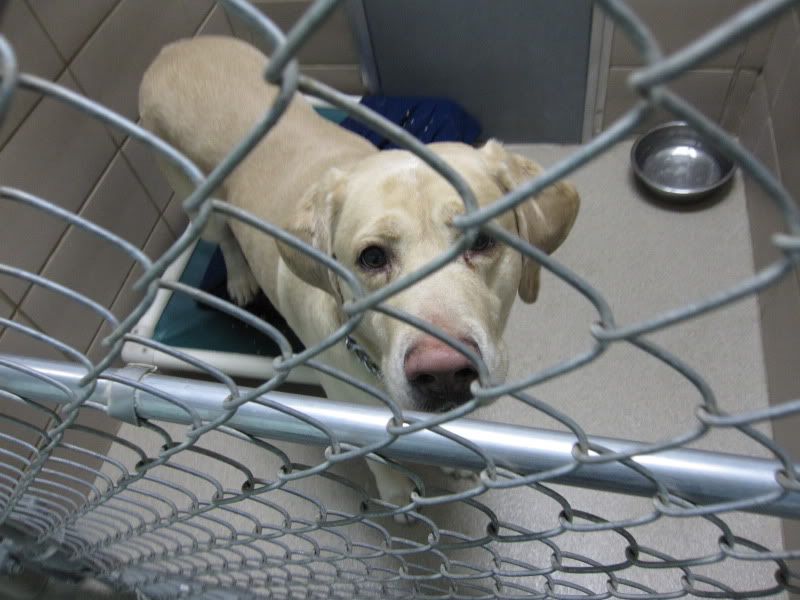 Before I left the shelter for the day, I headed to the dog kitchen and snagged him a couple of chew toys. He's always been a sucker for bones. And this is how I left him..
I approached the trainer and voiced my concerns that he was completely stressed out and not feeling well, explaining the growly behavior. I asked if she had any ideas on how to calm him and she hooked us up with a D.A.P. collar which he will wear for a month. The next day, I came back with Cash and crossed my fingers that it would go well...