Discussion Starter
·
#1
·
Jake and Charlotte played this morning! He was being a bit of a brat at first, he'd take any toy she was playing with, then growl if she went near him. Then he'd approach and nudge her with his nose until she was belly up - which is fine, but he did it probably every few minutes for about a 15 minutes. Normal? He then switched it up to barking.
Finally (!!) he decided to play chase with her (Jake loves to be chased). He would dangle a toy in front of her, then take off and she would follow. They circled the coffee table for a while then Charlotte took off under our kitchen table, where a mini game of bitey-face ensued. I'm keeping her on a leash, because (like your guy Anne!) Jake can get a bit unnerved by dogs in his space and Charlotte is definitely an "in your face" puppy. But so far so good! He's definitely interested in her
As I'm grabbing pictures I realized I've yet to get one of her fully awake! Bad dog Mom! The only time she's still is when she's sleeping so far...
Asleep with her alligator toy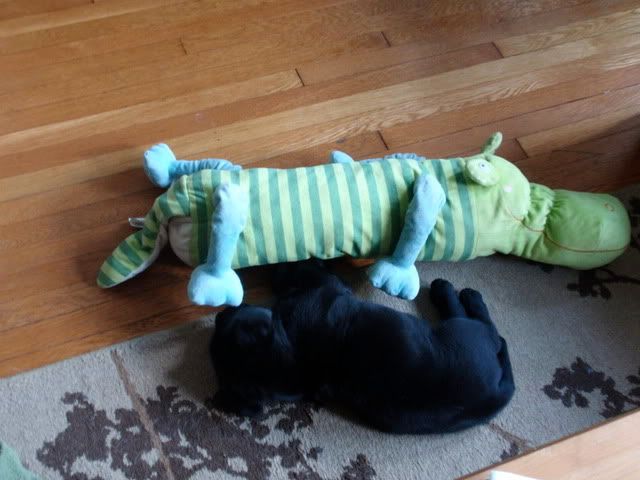 Adrift in the pool (I was right behind the raft, cut myself out!) she went right to sleep for about an hour on that thing, I was glad I could be in the water a bit!
Sleepy face