Discussion Starter
·
#1
·
Hey, everyone! Chamois here! I know, my Mama has been REALLY bad about taking pictures of me and I don't get it. She tells me I'm a pretty girl. Anywho, she gots me and Toby new collars from Lori at 3 Dirty Dawgz. She only let us wear one each, since the others are for some wedding pictures she and Daddy are gonna have done later and she said we'd shmutz them up. But we gots these new pretty silk ones. We're gonna wear them to a party at the house tonight! Aren't they fancy?
Look at me! I'm a pretty girl. Why doesn't mommy take more pictures of me?
What? Oh you want to see the collar, too. How's this?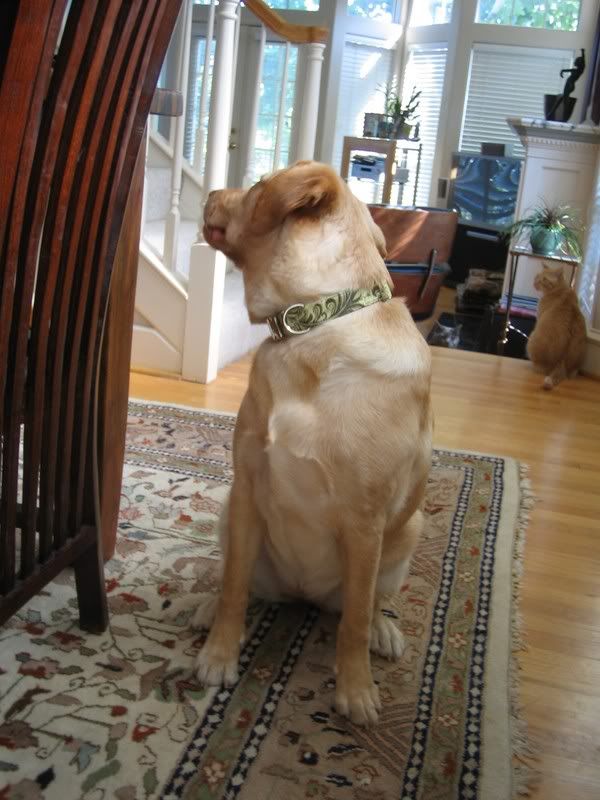 Oh yeah. My big brother Toby gots one, too.
Here's a close-up.
I feel like such a big girl now in my silk collar. Laters,
Chamois
Mom says: I sent Lori some extra fabric from the sash I had made for my wedding dress for a collar for Chamois (not the fabric pictured, the sash fabric is a pale pinkish-beige-taupe silk duponi). I also sent her two silks that are similar to the Tommy Bahama shirts that Mark and his groomsmen will be wearing (they're all slightly different but in greens and beige/browns). That's what they're wearing in these shots. Being the collar addict I am, of course, I had to get those made for both dogs. Lori did an even better job than I expected - they're AWESOME! Absolutely GORGEOUS! I couldn't wait for the professional photo session next month with us and the dogs to put at least one of them on the Kids. And apologies for being so remiss about Chamois photos. She is certainly getting big and turning into quite the beauty (and she knows it!). I'll post more later, I promise.