Discussion Starter
•
#1
•
Well today was...um, let's just say interesting.
The club that put on this match was insane.  They had 11 rings, yes 11!!!  There were 2 Utility, 2 Open, 2 Nov, 2 Rally, 1 CGC, 1 for sits/downs (open and novice rotated), 1 conformation.  It was a very busy set up because all the rings were connected so Essy was more than just a little distracted.  This disappointed my daughter but I told her there is no way to train for that type of situation and that everyone watching thought she did a wonderful job keeping Essy's attention.
The ring set up was like this:
.............................................................#conformation
CGC............#..Rally Adv/Ex..#..NB..#..OB..#..UB
sits/downs..#...Rally Nov......#..NA..#..OA..#..UA
As you can see, the NA ring is surrounded on all 3 sides.
The weather was cool and overcast but to the North I saw huge black clouds building.  Uh oh.
We managed to get thru both Nov and Utility before all hell broke loose.  Meghan ended up doing the CGC and Rally in a torrential downpour complete with thunder and lightening so no pictures of those events.  Hehe...she's been officially initiated into the world of die hard dog showing.
Meghan and Essy scored 184 in Novice.  In this picture you can see that they had it pretty bad with all the surrounding rings (our matches and the majority of our shows do not use baby gates so the posts with surveyor's tape is a pretty standard set up). This view shows the 2 rally rings and both Nov rings.  Oh and that beautiful blue sky you see was to the south (where we live).  I didn't get any pictures showing the storm to the north but I've plenty of video of 2 very wet girls.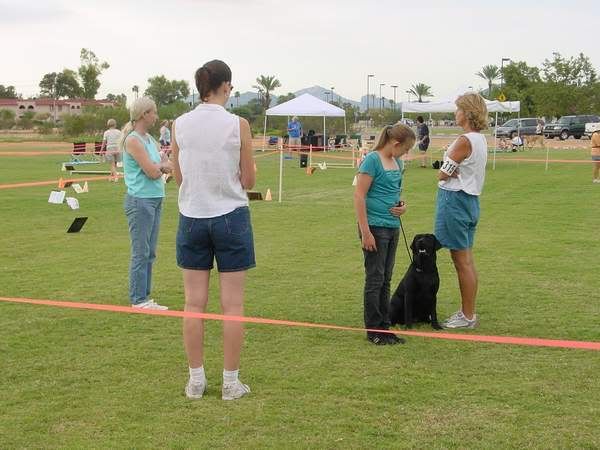 Next we went into Utility.  Murray was also distracted.  His heel work was ok but laggy. He sat instead of downing on signals. His articles and gloves were perfect. His moving stand was good.  His first go out was not good.  He angled hard toward the corner of the ring near Open B where someone was playing with their dog and a toy in the ring.  When I told him to sit he forgot what he was doing and started coming back to me.  I gave him a 2nd command and he sat.  The 2nd go out was perfect. 
Do not look at me in these pictures.
  I'm just posting them so you can see all the activity going on around us.
Here you can see all the activity in the rings around us and you can see the darker clouds beginning to move in. If you look closely in the far ring on the left you will see Willard Bailey (in a tan vest) and his new Golden, Cheddar.  For those of you familiar with the book "Remembering to Breathe", Willard is the author who wrote about his Nov A to OTCH experience with his dog Honey Bear. This picture shows both Open rings and both Utility rings and the conformation ring (which had white chains).
This is the recall signal. I'm showing it because it shows you the same view that the dog sees for the directed jumping (didn't get any jumping pix). You can see how distracting it was for the go outs.  The dog would see 2 sets of utility jumps...2 bars on the left and 2 highs on the right, no baby gate to distinguish the end of the ring.  The visual was even confusing for me and I KNEW what I was looking at.
This is Murray's article technique.  He is becoming more and more meticulous about the articles.  Today, he ran out and found the correct article almost immediately both times.  He then stood over that article (so he'd remember which one it was I guess) while checking all the others, then went back to the correct article and picked it up (#5 metal is correct in this picture).  I'm so happy with this new system of his. He's really gaining confidence in his ability to pick the correct article but checks the others anyway.  How cute is that?  Oh, doesn't he look handsome in his new gold chain that he got for finishing his CDX?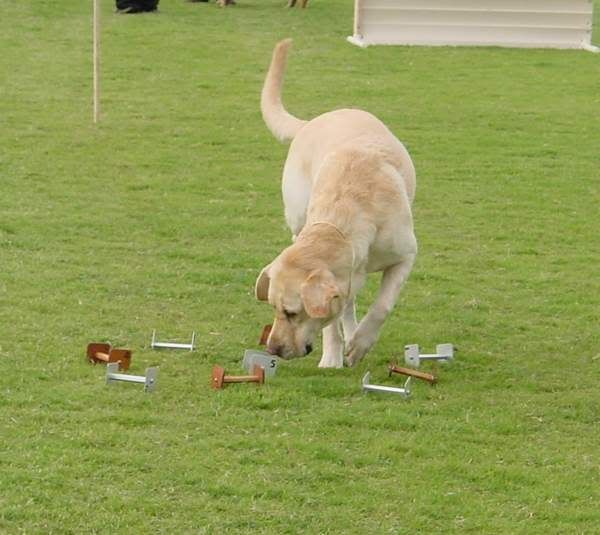 This is how to PROPERLY hang a dog.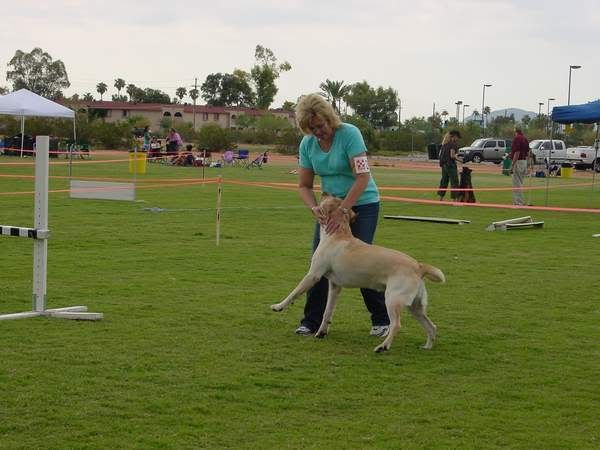 j/k
  Here is a close up.  You can see that Murray is leaping up (he leaps up from the finish) and I'm trying to pet him while keeping him from jumping on me.  I had to laugh when I first saw the picture though because at first glance it really looks like I'm picking him up off the ground by his neck since he only has one foot on the ground.
Since we were all soaking wet and muddy, we hurried home, dropped off the dogs, changed clothes then drove back to Phoenix for the stewarding seminar.  It was a wonderful seminar covering all obedience and rally stewarding.  I thought this was a brilliant idea for the club to put this on for free no less.  Now they have about 50 trained stewards they can call on.