Discussion Starter
·
#1
·
If your grandma worked for NASA.
http://www.batterblaster.com/
With its unique, pressurized, patent pending process, Batter Blaster™ makes organic light and fluffy pancakes and light and crisp waffles in minutes! And while breakfast is the most important meal of the day, it's also the most skipped meal. Batter Blaster is fast, easy and fun for the whole family. Batter Blaster makes breakfast a blast!

Just point, blast and cook!
I cannot tell you how much I love this product.
Not only does it have the dirtiest name ever thought up for a food (BATTER BLASTER? SERIOUSLY???), but they actually have the audacity to tout the fact that it's ORGANIC. It's PANCAKE BATTER IN A FREAKING AEROSOL CAN, BUT IT'S ORGANIC. SEE HOW HEALTHY?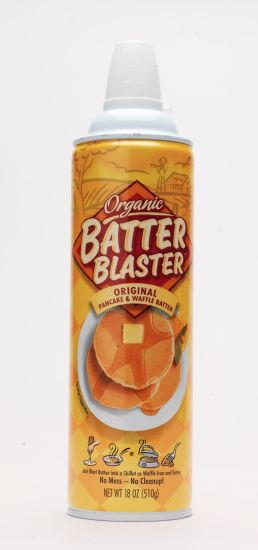 I bet Batter Blaster is great all over Karina's pie.