Discussion Starter
•
#1
•
I have been taking Baloo to Superdogs practice workshops to see if he can function as well as his sister in such a highly charged, hectic environment. He is doing GREAT. We were at a workshop this weekend and there were tons of people, food everywhere, barking/screaming dogs (gotta love those tollers, lol!) and he was a champ.
I never worry about that stuff with Peanut because she is 100% Momma-focused, other people and dogs aren't even a teeny blip on her radar when we're training/competing. Her brother on the other hand has notoriously been a total social butterfly and LOVES to visit with people and dogs, sometimes struggling to stay focused on the task at hand. So I worried about how he would handle training and performing in pretty much the most distracting set of circumstances ever created. :lol:
But he was just awesome. Totally focused and listening, and learning things that were completely foreign to him at lightning speed. We had maybe four or five flyball lessons last summer, never did a full run (or even worked with balls for that matter) but within three attempts he was running down a line of hurdles, grabbing a tennis ball off a pylon and running back over the hurdles with it in less than 5 seconds, with absolutely no handling from me (I stayed well back behind the first hurdle). Amazing. GOOD boy. As the Good Will Hunting quote goes, "My boy's wicked smhart." :hail:
Here he is racing out of one of the new tunnels: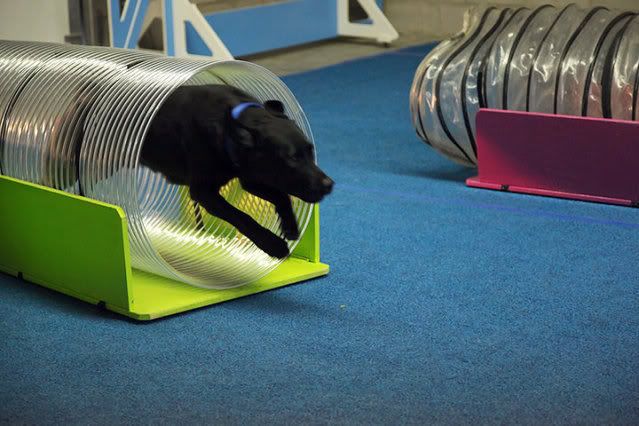 SO many of the dogs were freaked out by those tunnels, because they're a little slippery and reflect light like crazy, but not Baloo! They had one of those tunnels up on the walk and raised up, and he was the only dog brave (or stupid, lol!) enough to do it. So awesome.
So he will be coming to any shows we are invited to, and may just perform with the Superdogs in his own right! Woot!