Discussion Starter
·
#1
·
Bet you didn't even notice that I was gone!
We left Wednesday for Iowa - Nick's best friend got married (he was a groomsman). We had to go early so the guys could go fishing before the festivities began.
I had a BLAST. We saw so many friends...we've all moved away now, but we were all together this weekend, including some I hadn't seen in a few years. We all were staying at the same hotel, and the rehearsal dinner was there too, so it got crazy.
Let me tell you, you Irish Catholics know how to party!! After rehearsal dinner was over, all of us friends went to the hotel pool and sat at a table playing spoons and drinking beer (pool was open to adults only at the time - no worries). Of course someone got thrown in in their dress clothes, and someone else slipped and fell (and had to hobble down the aisle the next day). I swear, I haven't laughed so hard in a long time...my husband and his friends having pool-noodle fights. :
The front desk lady was very courteous, even when a friend rolled up his pants and went and asked her for some toys... ROFL...brother, we were behaving like children! :-\ ;D
The wedding went wonderfully, the reception was great and I got a bunch of phone numbers from old friends...it was a great reunion. I kept laughing out loud at work today thinking about all the fun we had.
Here's Nick and I at the reception: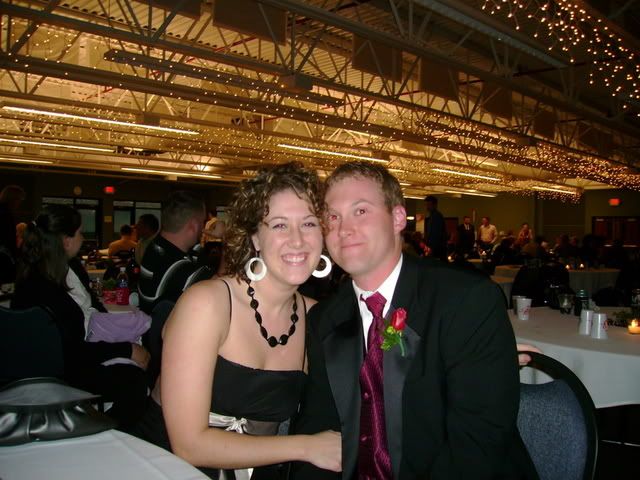 And that is as dressed up as you will ever see either of us!